Police in Karatina, Nyeri County killed three suspected gangsters after they tried to rob a nightclub at gunpoint.
Karatina Sub-County Police Commander, James Barasa said they recovered firearms and bullets after the failed robbery.
We have recovered an AK-47 rifle and a homemade pistol capable of firing. Three of the robbers were shot dead but others managed to escape," Barasa divulged.
The armed gangsters reportedly charged into the nightclub in the wee hours of Sunday morning and tried to force their way into the cash office.
However, one of the attendants at the nightclub sounded the alarm which alerted nearby police who were on a routine patrol, thereby kicking off a dramatic chase that lasted for 5 hours.
The alarm reportedly threw the entire gang off their game as they ran off hurriedly through adjacent houses, with the police hot on their trail.
As is mostly the case during pursuits involving a large group, sections splintered off leaving three barricaded inside an attic in one of the houses.
It was at this makeshift vantage point that the three bandits chose to make their last stand, resulting in a 5-hour assault by the police in a bid to flush them out.
Being a residential building, the police devised a strategy which involved the use of non-lethal force (teargas canisters) to force them out of hiding without harming any potential civilians trapped in the building as well.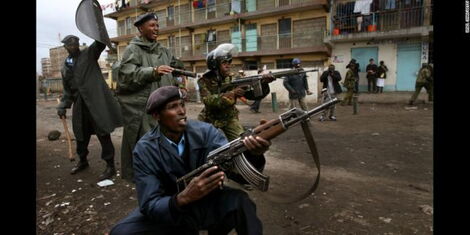 It worked as the three suspects came out firing at the officers, only to end up being shot dead in an instant.
Barasa disclosed that the officers were hot on the heels of the seven that got away, adding that it was only a matter of time before the culprits were apprehended.