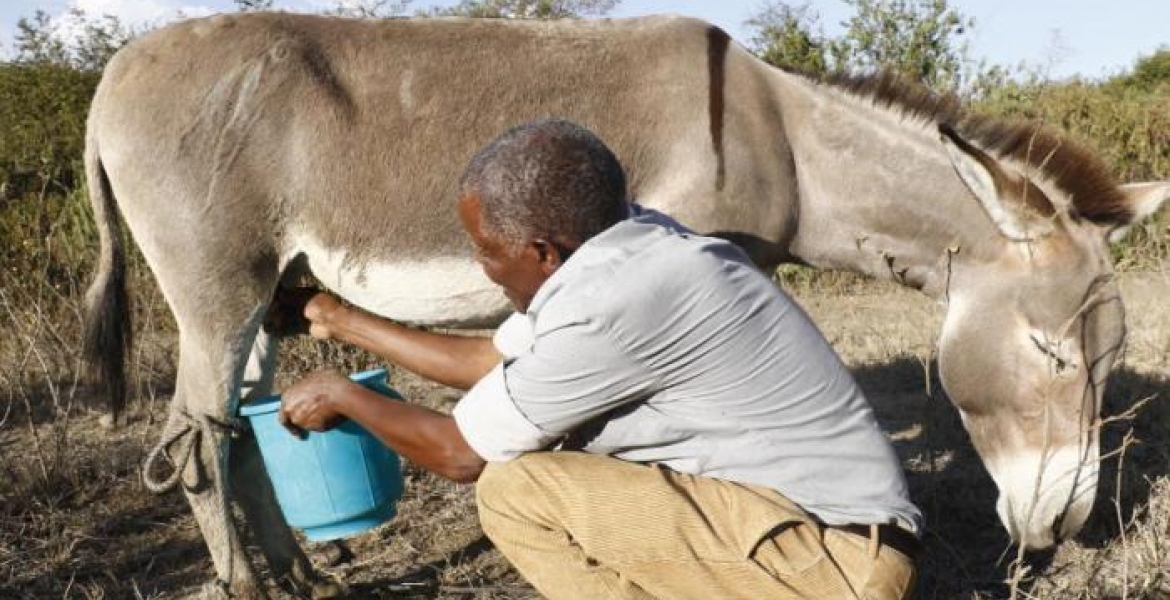 Have you ever heard those stories that go like this…..Mwarubaine huponya maguni(measles)…kuoga na majani ya muu-oo hufanya unakuwa fresh…mti ya mshanga(acacia) magamba yake hulewesha kiroho(it is true and it has some tetracanaboids that make the mind hallucinate when boiled..it was used by Africans to get to a spiritual state during worship).
Do you know donkey milk falls under this category of things that I have just mentioned above?
A Kenyan man has opened up about how he makes a killing from selling donkey milk.
In an interview at his farm in Kamere Centre, on the shores of Lake Naivasha, John Nduhiu says he has been rearing the animals in the past five years. The farmer says he currently owns more than 10 donkeys.
Nduhiu explains that he has been milking the animals and selling the produce to willing buyers in the area.
"They are just like cows; others are difficult to handle but most are gentle. They behave well and know when it is milking time. Gentle ones do not need to be tied up to stop them from kicking. They just wait until you are done and you release the baby to suckle the remaining milk," he says.
He says his customer base has continued to grow and currently sells a liter of donkey milk at between Sh200 and Sh250.
Nduhiu claims that donkey milk is highly nutritious compared to cow milk, and advises his customers not to boil before drinking.
"The best way to drink donkey milk is to take it after milking. If one wants to drink the milk the following day, you keep it in a fridge overnight and dip it in warm water before consuming it. That way, it will be effective," he notes.
He notes that most of his clients who were suffering from ailments such as asthma, arthritis and high blood pressure have been cured.
His plan to increase his herd of donkeys has been derailed by the increased theft of the animals occasioned by the opening of donkey abattoirs in Naivasha and Mogotio.
"I always wanted to expand the venture and start a donkey dairy but since the opening of donkey slaughterhouse in Naivasha and Mogotio, theft has dealt my dream a blow. At one point I lost seven of them and I decided to sell a few so that I could remain with a manageable number," he says.
Nduhiu has invited animal experts to partner with him on donkey milk research and how to improve his breeds.