After successfully beating Valencia 3-1 at Emirates, Unai Emery spoke about the wonderful link that existed between Lacazette and Aubameyang.
Both strikers scored for the Gunnars to make them be the favourites to qualify for the Europa League final.
Valencia were the first to get a goal after a superb strike from Diakhaby .
However, Alexandre Lacazette wasn't happy with this momentary result and it took him seven minutes to score the equalizer.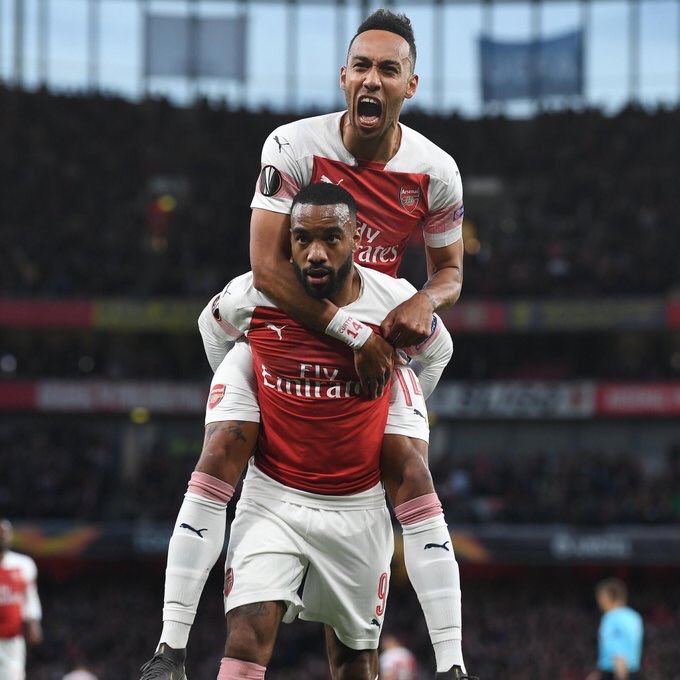 That first goal proved that both strikers share a unique connection in front of the goal.
A link that could prove good enough for them to reach the UEFA Europa League final by the end of the season, suddenly silverware seems possible for the Gunners.
A trophy during his very first season with the squad would take Unai Emery to heights that not even Arsene Wenger could get during his two decades as the club's manager.
The Spanish coach is using all the experience he has in the competition to use his players in the most beneficial way for the club.
He spoke to the press about the result after the match.
"It's a good result at home in the first leg but the second leg is going to be very difficult and may be different," said Arsenal boss Emery via Four Four Two.
"I consider it to be a 50/50 for the two teams. We can be happy today and proud of the players because after 1-0 it's not easy to be calm and come back with this team."
"It's not normal Valencia concede three goals. They are a very, very good team. And it is the reason I am very proud of our work today but it's going to be very difficult."
"I still believe that the tie is in the balance, we know how tough it will be to beat Valencia again. And they will be looking to respond."
"Aubameyang and Lacazette played very well this evening," he added.
Arsenal will be heading to Spain to face Valencia at Mestella Stadium for their second leg of the Europa League semi-finals.