We all know about our favourite TV presenters and TV shows that we love to watch. However, not many of us know about the amazing professionals who work behind the scenes to create the magic we see on TV.
Meet Citizen TV News director and TV producer Monica Kiragu. She is quietly confident, hardworking, a go-getter and a realist at heart.
So, who is the indomitable Kiragu that has made JKLive one of the most watched TV shows in the country?
Kiragu is basically a media industry veteran having launched her career at Kenya Broadcasting Corporation (KBC) in 2002 before moving to Citizen TV in 2012.
She worked at KBC for 10 years and rose through the ranks to become the head of news production. At Citizen TV, Kiragu is the head of directors.
Monica Kiragu, revealed that when Koinange landed at the station two years ago, various directors within the company were not willing to work with him.
She further revealed that she was challenged by her team members to take the bull by the horns because at the time, she was the only person who appeared capable of catapulting Koinange's show to become the rating juggernaut it is.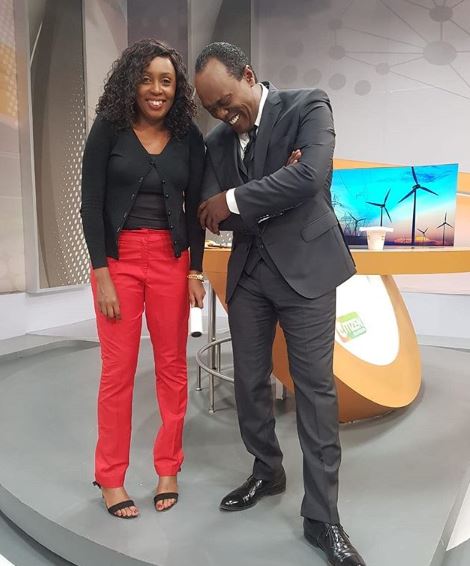 Here is what she had to say about her career journey and life lessons she has picked up along the way .
How she got interested in becoming a producer: When I was growing up, I used to watch Vioja Mahakamani and Vitimbi on KBC. When the credits would roll, I used to see the title 'kiongozi'. I would always ask my late dad what that title meant and he used to try and explain to me every time I asked even if I did not fully understand.
Her work experience: After school I got my attachment at KBC as a production assistant at KBC on the Vioja Mahakamani show and kids programs. That's where I met Terryanne Chebet and Kanze Dena who also came for an internship as production assistants.
With time, an opportunity came for News anchors and News directors at the KBC news rooms and that is how we each got into our various roles.
The beginning of her career: It was tough at the beginning because the KBC newsroom was not used to news directors. So it was both an adjustment for me and the people I worked with. But I worked hard and managed to get a good start in my career.
A day in the life of a news director: It is a balancing act with a lot of moving pieces and you have to always be on your toes. You have to make sure you have stories and hence you have to keep checking in with news reporters you manage as they edit their stories. You always have to have a plan B if the story you're chasing is not ready on time. The news program has to start on time, the news anchors I manage have to be prepared and available.
The lighting has to be perfect, the sound should be good and tested, and the graphics have to be prepared. I also have to liaise with transmission controllers to ensure we're all on the same page with the exact time the program should air. With all these responsibilities, maintaining a calm demeanor will help you keep your crew calm and allow them to deliver
Anchors she works with: I have worked to create an open supportive relationship with my anchors so that they can trust me. They can look to me for cues of things they need to know before news bulletins or interviews, such as timings, what news bites and graphics will be showing. This helps them feel prepared and put their best foot forward. It is team work at the end of the day and this is what helps us to produce good work together and also have fun while we work.
Some of the challenges: A lot rides on your decisions as a news director. One wrong move and your whole team fails. It is like constantly being in a hot seat. Sometimes the sound fails, you don't have a news anchor or you're late to go on air. It is through these mistakes that I have managed to polish my skills because I've learnt from them and now I'm better at my job.
Gender balance in the workplace: In the beginning, I used to work with a lot of men as a TV producer/ News director. But these days, my team consists of mostly women. Women have become more aggressive and ambitious in working behind the scenes in camera, sound, and as technicians and this has helped create the team of women I work with today. We support each other as women in the workplace and don't hold family responsibilities against each other. Instead we find ways to help each other.
Current projects: The focus now is on elections to ensure we deliver the best productions, and accurate unbiased coverage. My hope is that we have a peaceful elections season so that we all stay safe.
On mentorship: I like to work with people who understand the foundation of what working as a news presenter or news director entails. At the core of it, you have to be willing to put in the hard work to be a good journalist, which will help you build skills as a researcher and reporter. This eventually helps you become good at your job when doing interviews, preparing news stories and being a news anchor.
Advice to upcoming media professionals: Do your research, specialize in something you like and have a passion for, know your strengths and once you've mastered an area you like, learn about the other areas. Love your job and you'll always deliver more than is expected and excel.
Career Ambitions: I hope to earn the title of Top News director, to bring awareness to the role of what a news director does and I also hope to one day produce a movie! I'm a movie lover and the drama genre to be precise. When I watch movies I'm always thinking about the production behind it.
Work-life balance: I have a demanding schedule and as such a supportive personal network is necessary. As a news director and producer, you need a partner and friends who understand the demands of your job and support you through it instead of questioning you every step of the way. I'm lucky to have a very supportive network of friends, and family who uplift me, encourage me, understand my job and champion me through it.
Other hobbies/ interests: In my down time, I'm passionate about self-improvement courses and books, and spending time with friends and family.
Life values: Deliver more than expected and that way you will always be satisfied. Practice team work.
One word that describes Monica: I'm REAL. I tell it like it is.