With the dazzling performance displayed on the football pitch, no one would even believe that some of the world's celebrated football players have killed innocent people in their lives.
In reality, footballers could even be worse than the regular criminal across the street. Some have actually killed more than 50 people!
So, who are these footballers who have been killing innocent people?
Bruno Fernandez de Souza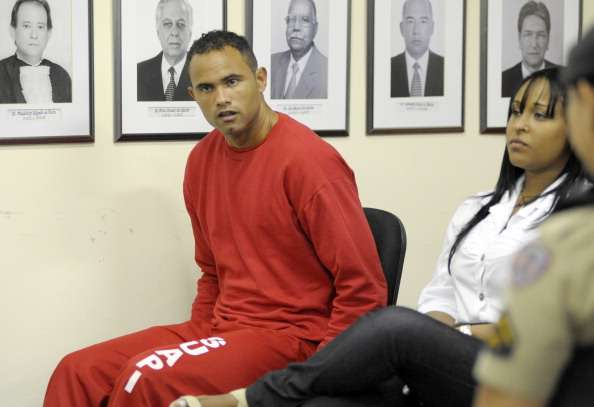 In 2010, Brazilian goalkeeper Bruno was sentenced to serve a prison term of 22 years after killing his girlfriend, Eliza Samudio.
In perhaps the most bizarre murder incident in the footballing industry, Bruno was convicted of chopping his girlfriend into tiny pieces and feeding her body to the dogs!
He was to later abduct their only son and keep him in unlawful custody.
Bruno was to be released even before completing his jail term.
"Dude, what happened, happened. I made a mistake, a serious one, but mistakes happen in life – I'm not a bad guy. People tried to bury my dream because of one mistake, but I asked God for forgiveness, so I'm carrying on with my career, dude. I'm starting over." – Bruno
Diego Buonanotte
Diego, who was Lionel Messi's teammate in the 2008 Olympic games where Argentina won gold, also killed three people.
After a party, Diego was driving his father's Peugeot 307 in the company of three other occupants in the car.
Diego crashed the car on a tree, killing three of its occupants on the spot.
A lawyer in Argentina would later call for the prosecution of the footballer, but it did not materialize. He was to be charged with three counts of vehicular murder.
Patrick Kluivert
The Barcelona and Ajax player, Kluivert was a promising footballer as early as at 19 years.
Patrick crashed a friend's car he was driving at 104Km/hr in a zone whose speed was capped at 50Km/hr.
Witnesses of the crash said it sounded like a bomb.
"He was in his friend's car and he clearly could not handle the power of it, the noise of the crash sounded like a bomb exploding." said a witness.
He crashed the BMW M3 on the car of a Dutch Theater director, killing the 56-year-old on the spot.
Marcos Alonso
Chelsea Full-back Marcos Alonso in 2011 killed a passenger he was having in his car when he crashed on a wall.
The celebrated star was to later be sentenced to 4 years in prison which was later reduced to 21 months behind bars.
The charges were, however, dropped after Alonso decided to settle the matter out of court.
He paid the lady's parents a whopping Ksh 60 million, and was set free.