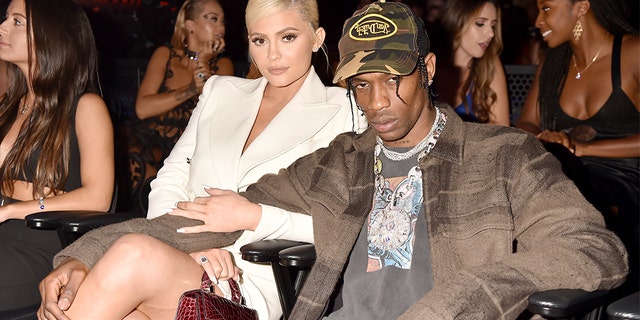 Kylie Jenner loaded up on the compliments Tuesday in her "happy birthday" message to partner Travis Scott.
The beauty mogul and reality star took to social media to express her love and appreciation for Scott, with whom she shares daughter Stormi.
She shared a collage of moments the couple have shared together, leading her sister Kim Kardashian to comment OMG these are the cutest pics ever!!!".
The post was accompanied by a few snapshots of the young family, featuring the parents together, Scott with Stormi and the trio in matching sweatshirts.
Their daughter Stormi Webster appears in many of the photos. But Stormi may not be the only child for long, as Kylie addresses the rumours that she wants a second baby in her caption.
"Watching you evolve into the partner, friend, son, and father you are today has been so fulfilling,".
She continued "My real life bestie & hubby all wrapped into one. I love you and I'm so so proud of you. Happy happy birthday. Let's fuck around and have another baby."
Kylie Jenner threw boyfriend Travis Scott the trippiest birthday party known to man. While we would have been happy with a bottle of Prosecco and racking up points on our Nando's card, the 21-year-old decided to go a little more out there for the Sicko Mode rapper as he turned 28.
In fact, she splashed out on a dimly-lit Cactus Jack / supermarket-themed bash – full of Travis Scott branded merch and a dodgy spinning lift. Serious horror movie vibes… Giving fans a tour through the party, she showed off a forest room where shoes hung off trees, before zooming in to a wall adorned with plastic legs.
'This is tripping me the f*** out,' she told her 133million followers.

In the last few weeks, Kylie has been rumoured to be expecting a second child. However, the reality star has not formally addressed the reports. However, the "self-made billionaire" has hinted to the fact we could be expecting to welcome a new baby to the Webster family.
There was a tattooist at the event and Kylie posted videos on her story showing her and her man getting tattoos. We can't wait to see if they're matching ones.
Kylie and Travis were joined by a string of famous faces on the night – including the Keeping Up With The Kardashians star's siblings, Kim, Khloe and Kendall Jenner, as well as Kanye West.
Not only did the mum-of-one go hard for the party, she also treated Travis – real name Jacques Webster – to a sparkling new grey Lamborghini, proving once and for all that we are not worthy of Kylie Jenner.

Travis Scott and Kylie Jenner have seemingly ignored the cheating and break-up rumours that emerged earlier this year. The couple have clearly made up and figured things out, and have plans of getting married and having a second baby.