For over 50 years,Luo Nyanza has been the epicenter of opposition politics.Kenya's first Vice President Jaramogi Oginga Odinga was christened a doyen of opposition politics, something that saw him go through uncountable frustrations and arrests by the then governments and a subsequent sidelining of Luo Nyanza from government projects.
After repeal of section 2A and re emergence of multiparty politics the region continued to be at the forefront of Kenyan opposition politics, under the leadership of Raila Odinga.
A group of MPs from the region now want another  community to take over opposition politics, saying the community is tired of being at loggerheads with  government.The community has suffered both systematically and physically through loss of lives, something the leaders say is now enough.
"We cannot be in perpetual war as Luo nation. We have been in perpetual isolation for 50 years. Let others also oppose the government.For now we are fully behind the handshake, and fight against corruption.The constitution does not compel us to be in the opposition. Nyanza being in the opposition  has exposed us to lack of development," said Mathare MP Antony Oluoch.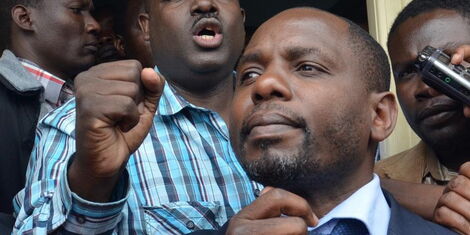 The MPs pledged their full support on the handshake and ongoing war against corruption, vowing not to allow anything come in between Uhuru Kenyatta and Raila Odinga. The Mps who were hosted by their Kisumu West counterpart Olago Aluoch, kicked off a tour of Nyanza region to explain to the community why they support the handshake and the war on corruption.
Speaking at St Paul's Catholic in Kisumu West,they said they will visit the region's constituencies before winding up in Kisumu town where they will be joined by Kieleweke team.
Those in attendance were MPs Onyango Koyoo (Muhoroni), Walter Owino (Awendo), Anthony Oluoch (Mathare), Jared Okello (Nyando), Olago Aluoch (Kisumu West), Opiyo Wandayi (Ugunja) and James Nyikal (Seme).
Also present were Aduma Owuor (Nyakach), Tom Odege (Nyatike), Jacqueline Oduol (Nominated MP), Rose Nyamunga (nominated Senator), Christine Ombaka (women rep Siaya) and Millie Odhiambo (Mbita).