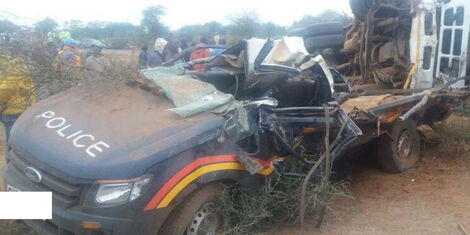 The high-speed chase in pursuit of a matatu ended badly when the police car rammed into a crowd of people at Itumbe market Kisii County on Tuesday night.
The crash added to a fast-growing tally of innocent bystanders and others who are killed when police chase drivers at dangerous speeds, usually for minor infractions and often in risky circumstances.
According to eyewitnesses, the two vehicles were speeding when the police Land Cruiser lost control and hit traders at the market at around 9:00 pm.
"It's very unfortunate that a police officer who is informed about traffic rules can drive in such a careless way. We want justice for these families," he said.
Police removed the body from the scene, while locals barricaded the busy road. One died on the spot and the other at Lenmek hospital.
A few months ago, a 25-year-old woman was killed when a lorry, fleeing from police officers, rammed into a shop she was manning.
Eunice Maguke was arranging groceries in her kiosk when the lorry, which was loaded with soil hit her, killing her on the spot.
High-speed pursuits are widely acknowledged to be one of the most dangerous activities police undertake. But some police have done little to reduce their danger even as they adopt other safeguards.