New education CS Magoha has warned a notorious lot of teachers who throw education into disarray to claim their 'justified rights.'
Despite the treasury allocating Sh500million for the 91,000 teachers, a section of KNUT officials had led their colleagues in disrupting the launch of the competency-based curriculum training for teachers.
In simple terms, the Kenyan Competency-based Curriculum (CBC) is a new system of education designed by the Kenya Institute of Curriculum Development (KICD) team and launched by the ministry of education in 2017. The CBC is designed to emphasize the significance of developing skills and knowledge and also applying those competencies to real-life situations.
In a statement on Tuesday, Inspector-General Hilary Mutyambai cautioned individuals against interfering with the exercise, saying police will not hesitate to take stern measures against them.
"Instructions have been given to our county and sub-county commanders, under the supervision of regional commanders, to ensure the training continues uninterrupted," he said.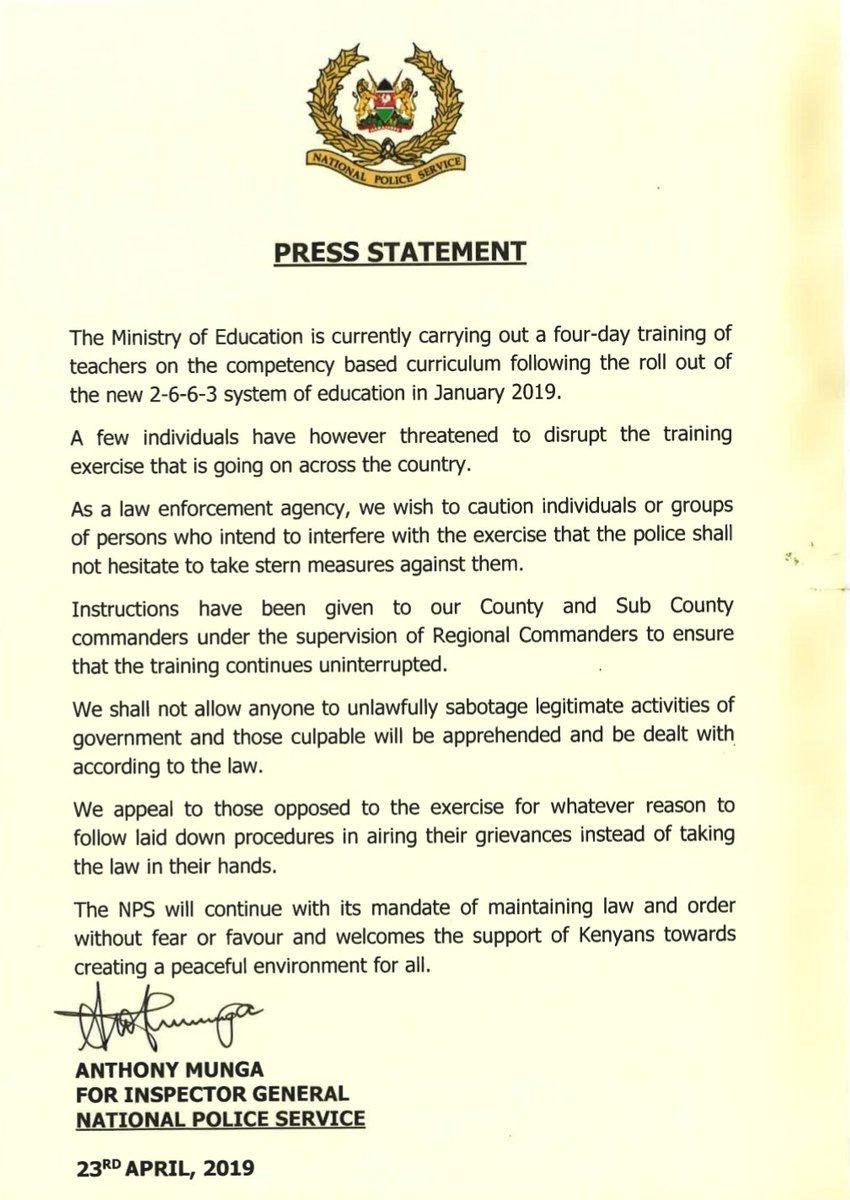 "We shall not allow anyone to unlawfully sabotage legitimate activities of the government … those culpable will be apprehended and dealt with according to the law."
Mr Tom Ingolo, who is the Kenya National Union of Teachers (Knut) branch secretary for Kakamega Central, was arrested on Tuesday at Shikoti Primary School.
"The police have arrested me…and want to take me to cells in Kakamega but teachers are protesting, demanding to be told why I'm being arrested," Mr Ingolo told the Nation.
Earlier, taking the lead from his branch chairman Patrick Chungani, he disrupted training of teachers at the Kakamega Primary School claiming that the meetings were poorly planned.
"We have asked the teachers to leave since the government is ill-prepared to roll-out the training programme. We asked them to boycott the training since there are no proper training and learning resources in place," said Mr Ingolo.
But the Teachers Service Commission county director John Nzioka asked teachers to report to the police if they are threatened.
"The training is an important exercise and must go on as planned. We will not allow anyone to disrupt the exercise," said Mr Nzioka.
Mr Nzioka said security officers will be deployed in the training centres to protect teachers.
In Vihiga County, training of teachers for the competence-based curriculum went on uninterrupted despite a call by Knut to boycott the sessions.
Why do teachers reject what is good for the country?