The Kenya National Federation of Jua Kali Associations (KNFJA) is now requesting the government to create a conducive business environment.
The group wants the Kenya National Chamber of Commerce and Industry (Kncci) to address the issues affecting Small and Medium Enterprises (SMEs).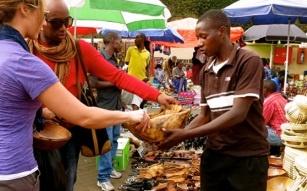 They also decried of incessant market fires particularly in Gikomba market attributed to business rivalry and alleged land-grabbing attempts.
"Little government support despite the sector being a major economic driver and employing more than eight million Kenyans leaves a lot to be desired. The informal sector is hardly involved in pertinent issues that affect the industry.
Furthermore, lack of market for Jua Kali products, partially caused by an overemphasis on the importation of products that can be made locally, has crippled the growth of this industry," part of the petition presented to Ngatia reads.
Small and Medium enterprises popularly known as SMEs are engines of growth, vital to most economies.
Research suggests that micro businesses and SMEs account for 95 percent of firms in most countries, create jobs, contribute to GDP, aid industrial development, satisfy local demand for services, innovate and support large firms with inputs and services.
In Africa, SMEs create 80 percent of employment, establishes a new middle class and stimulates the demand for new goods and services. The region is set to have a decline in economic growth with less than 3 percent average growth in 2022.
Nevertheless, pockets of countries in Africa, mainly non-resource intensive countries such as Côte d'Ivoire, Ethiopia, Kenya, and Senegal, are foreseen to continue to grow at more than 6 percent.
According to the IMF, growth in these countries has been supported by infrastructure investment efforts and strong private consumption. Many African countries are turning to entrepreneurs to support future growth.
With entrepreneurship playing a vital role in the development of a vibrant and formal small business-sized sector, there is much scope for SMEs to support African growth.
Small enterprises have between KES 500,000 and 5 million annual turnover and employ 10-49 people. However, medium enterprises are not covered under the act but have been reported as comprising of enterprises with a turnover of between KES 5 million and 800 million and employing 50-99 employees.