Airlines competition has seen Uganda purchase two Bombardier Jets that would likely spell doom for the ailing Kenya Airways.
Uganda Airlines received the two jets at a colorful ceremony held at Entebbe International Airport on Tuesday.
President Yoweri Museveni's government believes that restarting the national carrier will help Uganda take a slice of the region's growing aviation business and also invigorate the service sector of the economy.
Kenya Airways, South Africa Airways and Ethiopian Airlines currently dominate the country's air travel business.
The birds touched down at the airport on Tuesday morning after a slight drizzle.
They were welcomed by President Museveni who was accompanied by high ranking government officials.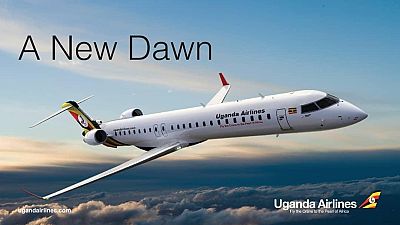 In 2018 Uganda ordered for four CRJ900 from the Canadian plane makers, as the first step on reviving the defunct Uganda Airlines.
Uganda Airlines will now start registering for the Air Operation Certificate.
The certification process from the Civil Aviation Authority called Air Operator certificate usually takes two months.
This means the national carrier can start business before July, 2019.
24 pilots, 12 captains and 12 first officers — have already been hired to operate the aircraft.
Officials say Uganda Airlines will start with 12 regional destinations including Nairobi, Mombasa, Goma, Dar es Salam, Harare, Mogadishu, Zanzibar, Kigali, Addis Ababa and Kilimanjaro.
Uganda Airline will be the first in the region and Africa to operate the CRJ900 in dual class configuration with 76 economy seats and 12 first class seats.