Despite the similar looks, Kakamega teens believed to be identical twins share many similarities than you could think. If the Pending DNA tests go on well, then there are high chances that these two are identical twins.
These Two teens from Kakamega county, now fully believing they are identical twins, separated at birth and reunited by fate have shown similar characters leaving more questions than answers. If you ever watched the movie dubbed "switched at birth," then you will understand how the whole matter weighs on both parents and these two teens.
Sharon and Melon who re-united after a series of mistaken identity on social media have a similar liking of certain things and do almost everything the same way, according to their mother.
Rosemary, the woman believed to be the mother of the two said she took time to have a mother-to-daughter talk with the teenagers about their relationships and she was shocked to find out that, they have boyfriends with similar names.
"Both Melon and Sharon have close friends called Willis. I first thought they had a common friend until I asked to talk to the boys and I found out that the two boys are two different people," said Rosemary.
From the look, the two teens are very identical to an extent their own mother, Rosemary Onyango, finds it difficult to differentiate them. it is evident from the photos of the two which have gone viral since the story went on the air
"Their faces are so identical that I find it difficult to differentiate them. Their voices and way of reasoning is also similar,"

said Rosemary.
the two also dislike the same meals according to Rosemary.
"I was shocked when I found out that both of them do not eat Omena ( Lake Victoria sardine) and Matumbo (tripe)," she said.
"I asked the new girl (Sharon) a simple question: Which food don't you like? And she answered: "Omena and matumbo" – foods that my daughter Melon also doesn't eat," Rosemary added.
While awaiting the DNA test, Richard Olukhakha, Melon's father, has already determined their blood group.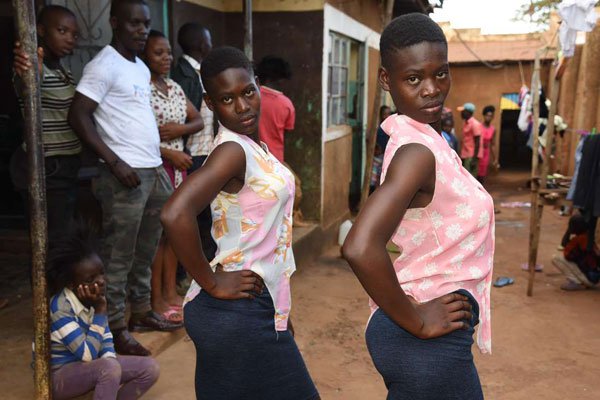 He took all the girls, including Melvins sister, to a local health facility to determine their blood groups and was surprised to learn they were all O positive, just like him.
Their plea for a DNA test caught the attention of the Kenya Medical Research Institute (Kemri), which said it will fund the process if requested to do so.