A father has been left in tears after a bus ran over his son and killed him on the spot as he was trying to cross the road and join him.
The bus hit and killed the four-year-old boy near Fly-Over trading center in Magumu Kinangop after the driver lost control and landed into a ditch.
According to reports, the minor was crossing the busy highway to join his father who had earlier crossed the road when the bus ran over him bringing the busy highway to a standstill.
Police and members of the public had a hard time consoling the child's father following the morning accident.
A witness, Samson Kuria, said the man had crossed the road leaving the minor behind when the latter decided to follow him. He said there was little that the bus driver could do adding that the minor died on impact before the bus stopped meters away.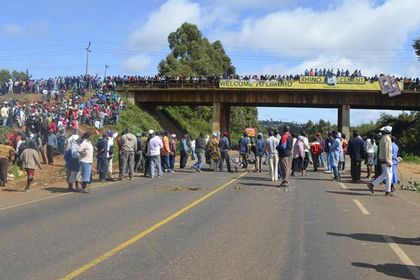 "The accident happened so fast with the bus missing other vehicles narrowly after the driver lost control but the passengers were not injured," he said.
Njabini deputy OCPD Charles Rotich confirmed the incident adding that they had opened an inquest file.
The child's body was taken to Naivasha mortuary.