Francis Atwoli might be the third most popular person in Kenya like he purport's but one thing that remains clear is the fact that his life has never been short of controversies.
From being accused of snatching someone's wife to being accused of murder, it would be prudent to say that the Workers Union Chief has seen it all.
On 7 February 2015, COTU Deputy Secretary General George Muchai was killed in Cold Blood.
After his murder, a number of people began pointing fingers at COTU Secretary General Francis Atwoli with speculations rife that his differences with the slain MP could have led to the death.
Atwoli fought these claims and pointed out that knowing who was behind the murder, which took place in the wee hours of the morning, was key in serving justice to both the family and residents of Kabete constituency who Muchai represented in Parliament, and the whole country.
"The government must do a thorough probe to tell Kenyans who is behind his death. Anything short of this will only breed rumours," Mr Atwoli said at a press conference at the Cotu offices in Nairobi.
And aware that some people were likely to speculate that the frosty relationship with his deputy may have culminated in the death, Mr Atwoli said: "He was never a threat to me or us at Cotu and the differences we had were very healthy for the trade union movement and based on issues at hand.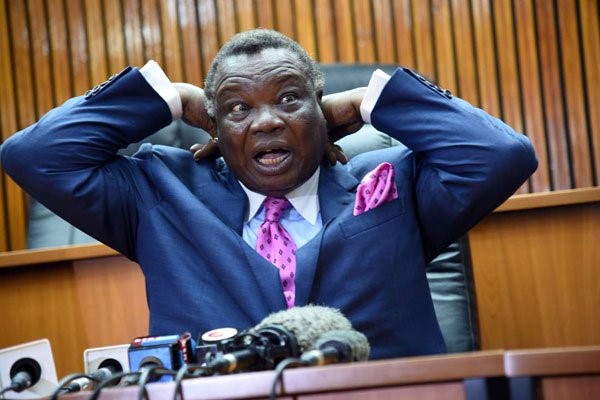 "Despite our differences, which are normal in life, he remained a friend and a colleague. Remember we grew up with George in Nairobi and had known each other for the last 50 years," he said.
The MP had taken Mr Atwoli to court claiming he was mismanaging the organisation.
Well, it seems like the Muchai murder has once again come back to haunt Atwoli after he made remarks that suggested that DP William Ruto will not be at the ballot come 2022.
Ruto's allies have asked him to expound on whatever he meant by that statement with many of them reading ill-motives in it.
According to Kericho Senator Aaron Cheruyiot, The threat by Atwoli on Ruto should not be taken lightly if his past encounter with the late Hon. George Muchai is anything to go by.
"The threat by Atwoli that WSR will not be on the ballot come 2022 shouldn't be taken lightly.
The late Hon Muchai and Atwoli disagreed on COTU leadership, by election time he was for sure not on the ballot," Said Cheruyiot.