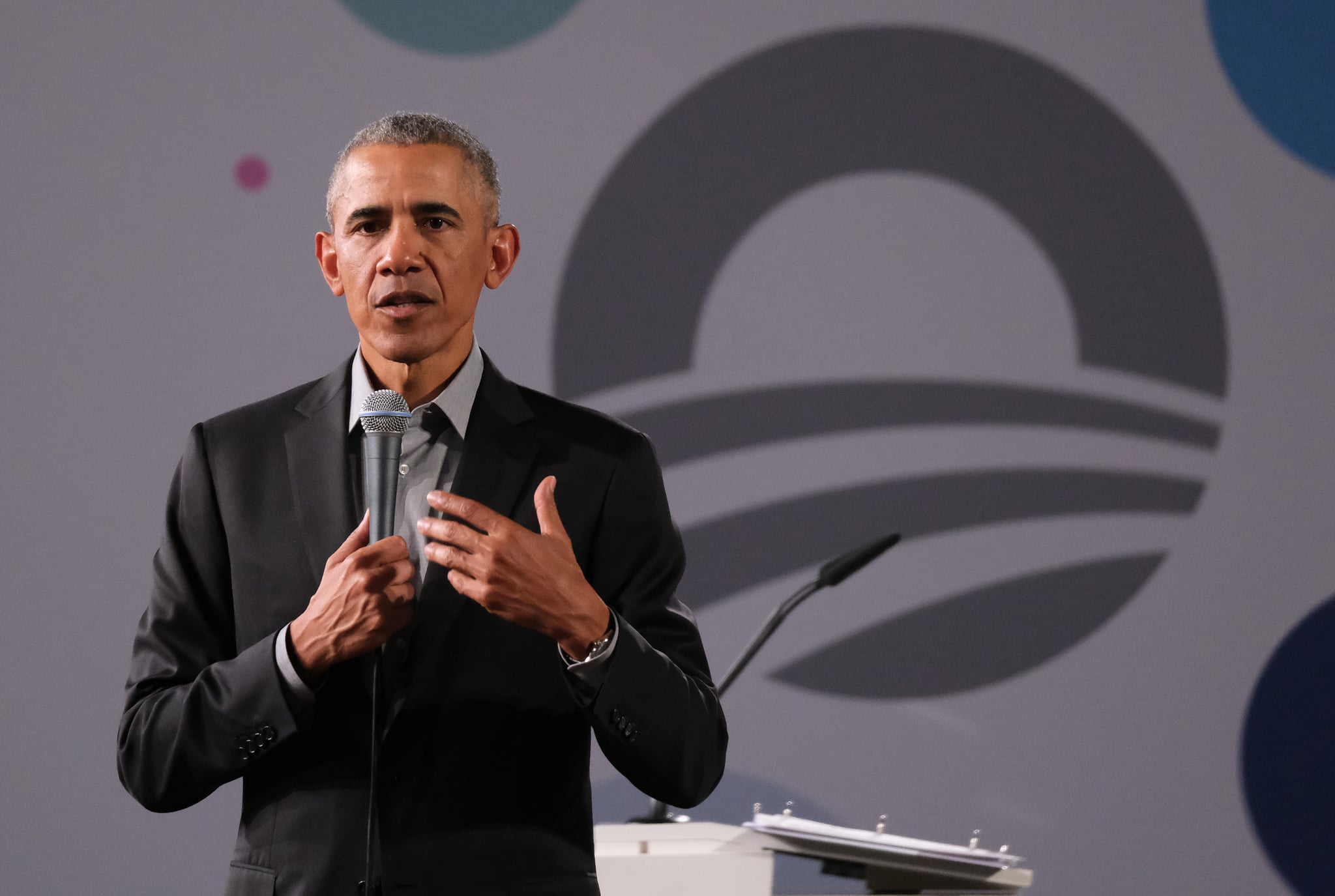 Barrack Obama wrote a tribute to Nipsey Hussle that was read by hip-hop executive Karen Civil during the late rapper's memorial service at Staples Center in Los Angeles today. The reading came after a moving performance by singer Marsha Ambrosius, who sang Mariah Carey's "Fly Like a Bird." Obama's speech follows in full:
Dear Friends and Family of Nipsey:

I'd never met Nipsey Hussle, but I'd heard some of his music through my daughters, and after his passing, I had the chance to learn more about his transformation and his community work.

While most folks look at the Crenshaw neighborhood where he grew up and see only gangs, bullets and despair, Nipsey saw potential. He saw hope. He saw a community that, even though its flaws, taught him to always keep going. His choice to invest in that community rather than ignore it — to build a skills-training center and a coworking space in Crenshaw; to lift up the Eritrean-American community; to set an example for young people to follow — is a legacy worthy of celebration. I hope his memory inspires more work in Crenshaw and communities like it.

Michelle and I send our sympathies to Lauren, Emani, Kross and the entire Asghedom family and to all those who loved Nipsey.

Sincerely,

Barack Obama
Nippsey's fans and eulogizers were completely impressed by Obama's words that struck their emotions. Most of them expressed gratitude and loyalty to the ex president.
Here are their reactions:
I will tell you why a letter like this will not be sent from Trump, one he can't write, two he doesn't care about anyone but himself, and three Nipsey was African American, President Obama was a real President that cared for all.— Mr. Goodnight (@NewPowerSoul) April 11, 2019
Just another endearing moment of unrelenting class!— Kathi L Smith (@KathiLSmith57) April 11, 2019
And THAT how a REAL President behaves!— SuperSuz14p 🌊✌ (@supersuz14p) April 11, 2019
I MISS YOU SO MUCH!! This is a president— Ape $hit (@CdoTMoody) April 11, 2019
What an awesome human being full of compassion and inspiration. Thank you Mr. President for giving recognition and hope to a community that lost a positive voice. Rest Peacefully Nipsey.— DaQueenSpeaks (@DaQueenSpeaks) April 11, 2019
That was beautifully written thank you Mr Obama— Anissa Parks (@Polkanissa77) April 12, 2019
Long live nipsey always and forever be remembered in our hearts forever amen 🙏— Daniel Angelo nunez (@DanielAngelonu4) April 12, 2019