New details have cast doubts on the validity of a viral video showing County staffers being arrested at Nairobi Hotel in Westlands.
Kenyans on Social Media now claim Nairobi Governor Mike Sonko might be back to his old rachet ways of clandestine recording and intimidations.
In a Facebook post, Sonko said the county workers, now suspects, were arrested while receiving Sh60,000 bribes at a Nairobi hotel.
The governor warned members of the County assembly of engaging with corrupt acts noting more people will be arrested.
According to a post on Nairobi Governor Mike Sonko's official Facebook page, the bribe was meant for the issuance of fake single business permit license. More so, the officers were to provide free county services to the imposters.
"They had requested sh 100,000 but after negotiations, they settled for sh 60,000," he said.
"More County staff are expected to be arrested in connection with this unethical behavior as it involved a big chain of senior cashiers, accountants, and auditors from the county." Mike Sonko
The suspects were to be charged for fraudulent acquisition of public property, proceeds of crime and false document.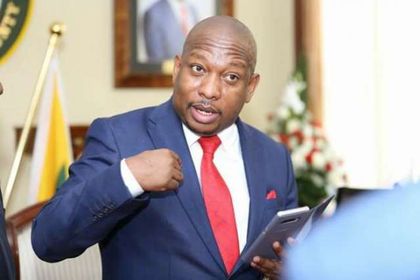 Sonko has been on the record of setting politicians and business people by recording the conversation and later release it to the public.
On August last year,Sonko was blasted online after he leaked audios of conversation between him and kiambu governor Ferdinand Waititu.
In the video, Mr. Waititu was heard pleading with Mr. Sonko in a phone conversation to release his wife and 14 workers, who were arrested over unapproved construction in the city.
The video was shared widely on social media networks drawing criticism from Kenyans.
Early this week, Sonko laid a trap for Nairobi businessman Praful Kamar in his Kilifi home and the businessman was arrested for attempting to bribe him with Sh1 million.
While speaking during an interview with Milele FM, early this year, Sonko said recording conversation is a way of fighting corruption but not a means of seeking political mileage as perceived by many.
"I am not doing public relations exercise or seeking political mileage from my actions," he said.
Sonko said that exposing recorded information helps expose corrupt individuals in the system.