Wednesday Gikomba fire could as well be another well-choreographed arson attack.
While the possibility of a natural fire outbreak cannot be ruled out, reports have emerged pointing accusing fingers at the very 'Victims' of the fire tragedies.
Like every criminal incident, the Gikomba and Toi Market fires have some semblance and regularity that make them suspicious.
Only occur at night
Of note, the fires mainly occur at night. Generally, most people use electricity during the day for business, manufacturing and other activities more than it is used during the day.
So, chances are higher that electrical faults be more prone during the day.
Speaking confidentially to a local reporter, a trader intimated that more often than not, the Gikomba, Toi fires are meticulously planned.
Watchmen look Away
Watchmen guarding the stalls are also given clear instructions to look away,, and let the fire consume what it pleases!
Shockingly, further reports indicate that in a bid to make a quick buck, conniving traders go to unimaginable lengths. In some of the fire incidences, lives are lost, while others are maimed for life.
For example, at least 15 people lost their lives and more than 60 others were injured in the Gikomba fire on June 24, 2018. Some bodies were burnt beyond recognition; some victims were suffocated by smoke after they were trapped.
In the inferno, President Uhuru Kenyatta expressed his displeasure at the casual manner his Cabinet Secretaries treated the incident, He was particularly concerned that not one of the CSs had visited the scene.
Landlords Implicated
Some landlords have been roped into the Gikomba and Toi market fires.
Traders say that some landlords willingly torch their stalls so that they can build better structures that attract higher rents.
While the traders would be counting losses, the landlords would be ready with their construction workers ready to put up new structures.
Kinjuri Revelation
As the then Cabinet Secretary for Devolution, Mwangi Kiunjuri, now in Agriculture, indicated that reports had shown arson links in the fires.
"We are saddened that reports point to foul play. The government is investigating to determine the exact cause of these fires. Stern action will be taken against culprits," he noted.
The cases have dragged, with little headway (if any).
Greedy Traders
Greedy traders have also been victimized as key suspects in the fire outbreaks.
Ruling out electrical causes, Nairobi Deputy Director of Fire Rescue and Disaster Management Brian Kisali agreed with the traders and said petrol is used to torch markets.
Gikomba traders' majority leader Geoffrey Wanderi said people take loans and once they have spent the money or they are not getting returns on business, they set their stores ablaze.
"Others traders take insurance with the intention of defrauding insurance firms. They remove everything from their shops, set empty stores on fire and seek compensation claiming they lost everything," Wanderi said.


Suspicious Spread of Fire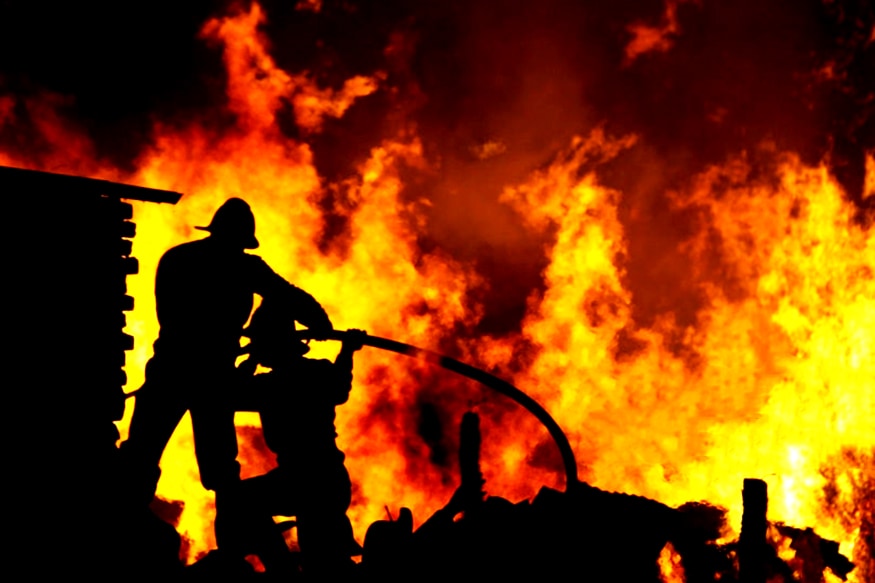 Businessman Benson Mwangi informed the reporter that the speed with which the fires spread is always suspicious and points to an accelerant like petrol.
"First, we'd expect most fires to happen during the day when most people are using electricity. Why do they start at night?" Mwangi asked."How fire can spread 50 metres in less than three minutes tells you that petrol is used."
More Business Spaces
A section of traders seeking more market space also set fires. They are reported to be burning prime sections of markets to evict other traders so that they can take up their positions.
"They identify prime parts of markets for their business and since they cannot buy the space, they decide to burn key areas so occupants are forced to move out," one trader said.
The owners know that once you have lost everything you are not able to afford the rent in the prime areas while struggling to rebuild your business, you will have to start again elsewhere, he said.
Witness Account
This year, a loader in Toi market said he saw three people sprinkling a substance along main footpaths in the market shortly before the fire that consumed the whole market at night two weeks ago.
"I didn't suspect they were on a mission, therefore, I didn't pay much attention. I remembered later how they went around with a bottle each, pouring the substance in small quantities," he said.