The death of a 28-year old woman in Kakamega County has left many in shock after she successfully gave birth to five babies.
Events surrounding the woman's death have taken a bizarre twist after Luhya elders warned that three among the babies should be killed to save the other two.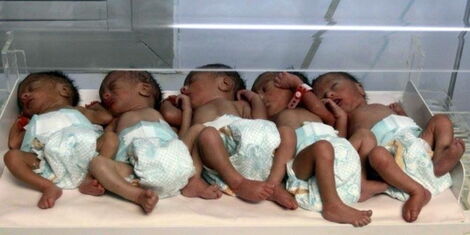 Evelyn Namukhula gave birth to the five babies on Wednesday, March 13, at Kakamega County Referral hospital only for them to be referred to Moi Teaching and Referral Hospital (MTRH) Eldoret after developing breathing complications.
Speaking to the press on Friday, March 15, elders from Namukhula's husband's family said customs dictated that a woman can only take care of two babies at a go thus three of them needed to be eliminated. They argued killing of the three would allow the mother to breastfeed and successfully raise the other two.
"According to our tradition, one is not supposed to give birth to more than two children. If that happens, we consider it a bad omen and the extra three children need to be eliminated. If she breastfeeds more than two she'll lose all the five,"said one of the elder.
As at Friday, March 15, Namukhula had not breastfed the babies for fear of ancestor's wrath.
Another elder said the mother of nine needed to have a special traditional ointment applied on her breasts so that she could begin breastfeeding the little angels.
Meanwhile, MTRH CEO Wilson Aruasa said three of the quintuplets were stable but the others had been put under special care.
"They were referred here after developing breathing complications. Among the preterm babies, two are unstable and the other three are out of danger," said Aruasa.
She died at the facility on Sunday morning after reportedly complaining of chest pain hours before she succumbed.
Prior to her death, Evelyn had lost her two baby boys who doctors said were "very sick" by the time of admission.