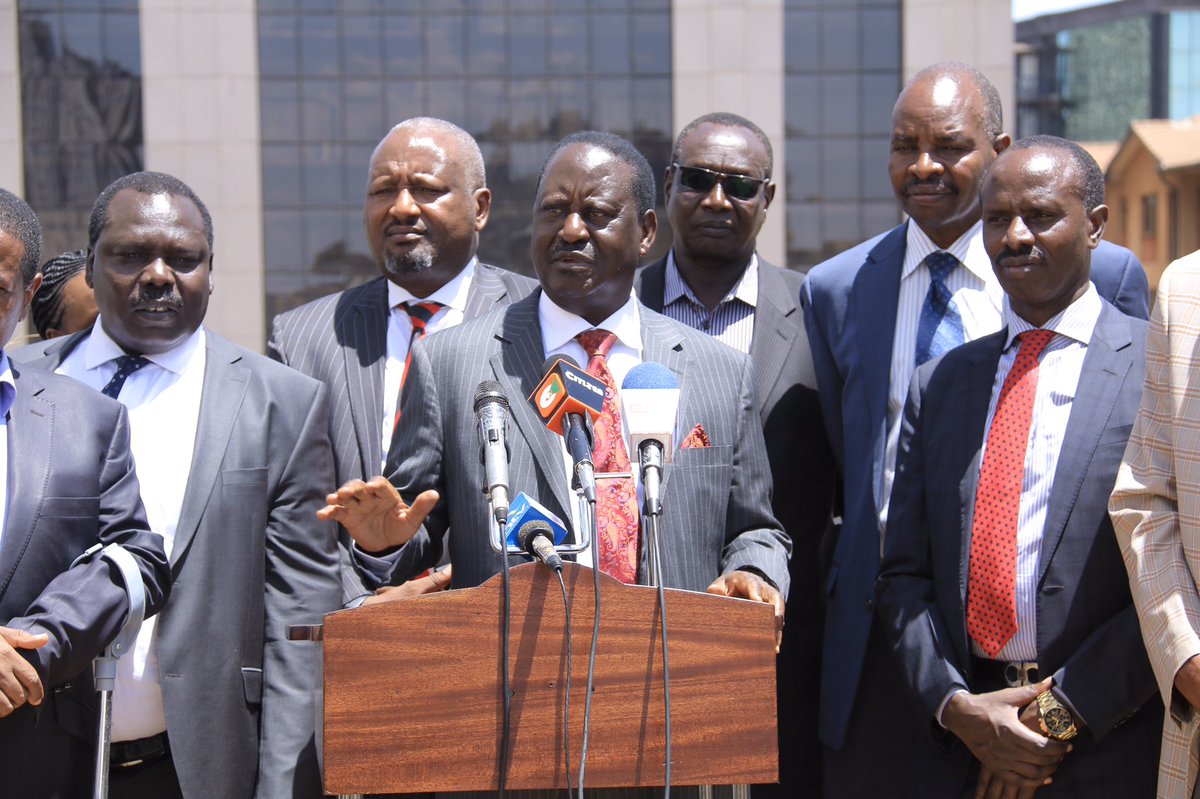 Did Raila Odinga meet fake Kalenjin leaders? You know you can't really say you met Kalenjin leaders if Ruto was not in the meeting.
Raila announced on social media that he met leaders from the Rift Valley
"with whom we discussed issues ranging from reviving agriculture, the Building Bridges Initiative, famine in parts of the Rift Valley and how to ensure that the dams whose funds have been embezzled can be set back on track."
But the Kalenjin community quickly refuted this claims, arguing that Nick Salat cannot be termed as a leader from Rift Valley.
Baba umecheswo..those are not kalenjin leaders…For real i come from that region…they are not even power brokers..look for Prominent farmers, businessmen power brokers etc…na our sober leaders kama Alfred keter,Kutuny, na Mishra ..hao..ndio watakusaidia..bt great initiative— THE DUKE OF KESSES🎩🎩 (@FranklinChes1) April 8, 2019
Apart from ODM nominated MP Wilson Sossion, non of the others can be said to be in active politics.
Who elevated kina Menjo, Sossion, Sirma and Salat to Kalenjin leaders? Anyhow, let them remain where you have placed them…..Kalenjin tribal leaders.— Benson Kimutai (@BensonKimutai5) April 8, 2019
Some people have argued that Raila is using the handshake and the fight against corruption to fight DP William Ruto.
Most of the people at the Capitol Hill office can be described simply as political rejects. Bitter truth.
Baba which leaders! Those are kalenjin political rejects hapo just day dreaming baba— Emsea Kips (@KipsEmsea) April 8, 2019
In fact Baba became an internet joke, after making this serious claims.
You cannot say you met Kalenjin leaders if the region's kingpin William Ruto was not in the meeting.— Paul💘 (@K29___) April 8, 2019
There have been claims that Baba was binge drinking over the weekend after suffering home and away defeats in Embakasi South and Ugenya by elections.
That's a good way of diverting attention from Ugenya to Kalenjin. What can Koech,Sosion,Salat et al bring to your table?— Meshack Tum (@tum_meshack) April 8, 2019
Of course Raila has downplayed the by-elections loss saying elections are there to be won and lost.
Away from Raila's meeting, Hilary Mutyambai was sworn in at the Supreme Court as the 3rd Inspector General of Police.
Mutyambai, a former intelligence officer, took oath of office at the Supreme Court of Kenya, during a ceremony witnessed by Chief Justice David Maraga.
This follows his appointment by President Uhuru Kenyatta and successful vetting by the Senate and the National Assembly of Kenya.
Mutyambai was nominated on the 13th of March 2019 by President Kenyatta through an executive order, and vetted by parliament's joint committee on security on the 28th of March 2019.
Before his appointment he was the Deputy Director Counter Terrorism Division in the National Intelligence Service.
Mutyambai takes over from Joseph Boinnet, whose tenure came to an end in January this year.
He joined the police service in 1992 as a constable and rose through the ranks before moving to the National Intelligence Service in 1998.
We are pleasantly in anticipation as we all pray for IG successful and noble task ahead.Let's all unite towards addressing INSECURITY as our responsibility.Congratulations IG Hilary Mutyambai!!!— Wambugu Githaiga (@maumaugck1) April 7, 2019
When he appeared before the administration and national security committees of both houses Mutyambai last week said he will be guided by the rule of law while executing his duties.
The new IG said he will enhance accountability and responsibility within the national police unit to detect corrupt officers.
He has extensive anti-terrorism experience and has studied in the US, the UK and Israel. He promised to improve the welfare of the police officers and to engage the Salaries and Remuneration Commission to better the terms of service for police officers.
Maraga has said the Judiciary will work with the police to ensure that services are delivered to Kenyans. The outgoing IG Boinnet was also present.
Later at State House, Joseph Boinett was sworn in as Tourism CAS. It seems he did a good job for Uhuru Kenyatta.
On to some Sports news now, and Harambee Stars have unveiled an ambitious plan to take six lucky fans to Egypt for the 2019 AFCON tournament.
Football Kenya Federation and Giant betting company Betin Kenya have launched an ambitious promotion that will see six lucky Kenyans travel to Egypt for the AFCON 2019 tournament.
The lucky Kenyans will spent seven days in Egypt watching all the three Harambee Stars Group stage matches and tour the North African country's rich heritage sites.
The promotion involves a competition called #ShindaNaStars where fans can answer simple questions through an SMS platform.
All you have to do is deposit 50 shillings in your Betin account through Paybill Number 881881 and Account Number as FKF. You will then receive easy questions about Harambee Stars and AFCON.
Betin and FKF said that the draw will run from 8th April to 10th June and despite the Egypt tour, there will be daily and weekly winners.
Apart from the six nights in Egypt, the winners will also walk away with a cool sh 1 million shillings, which you can spend in Egypt with bae.
To participate in the promo, you have to be above 18 years. And you don't have to worry about VISAS since Betin will facilitate almost everything.
Harambee Stars will grace AFCON finals for the first time in 15 years and it will be a chance for lucky Kenyans to watch players like Michael Olunga and Victor Wanyama take on Africa's finest.