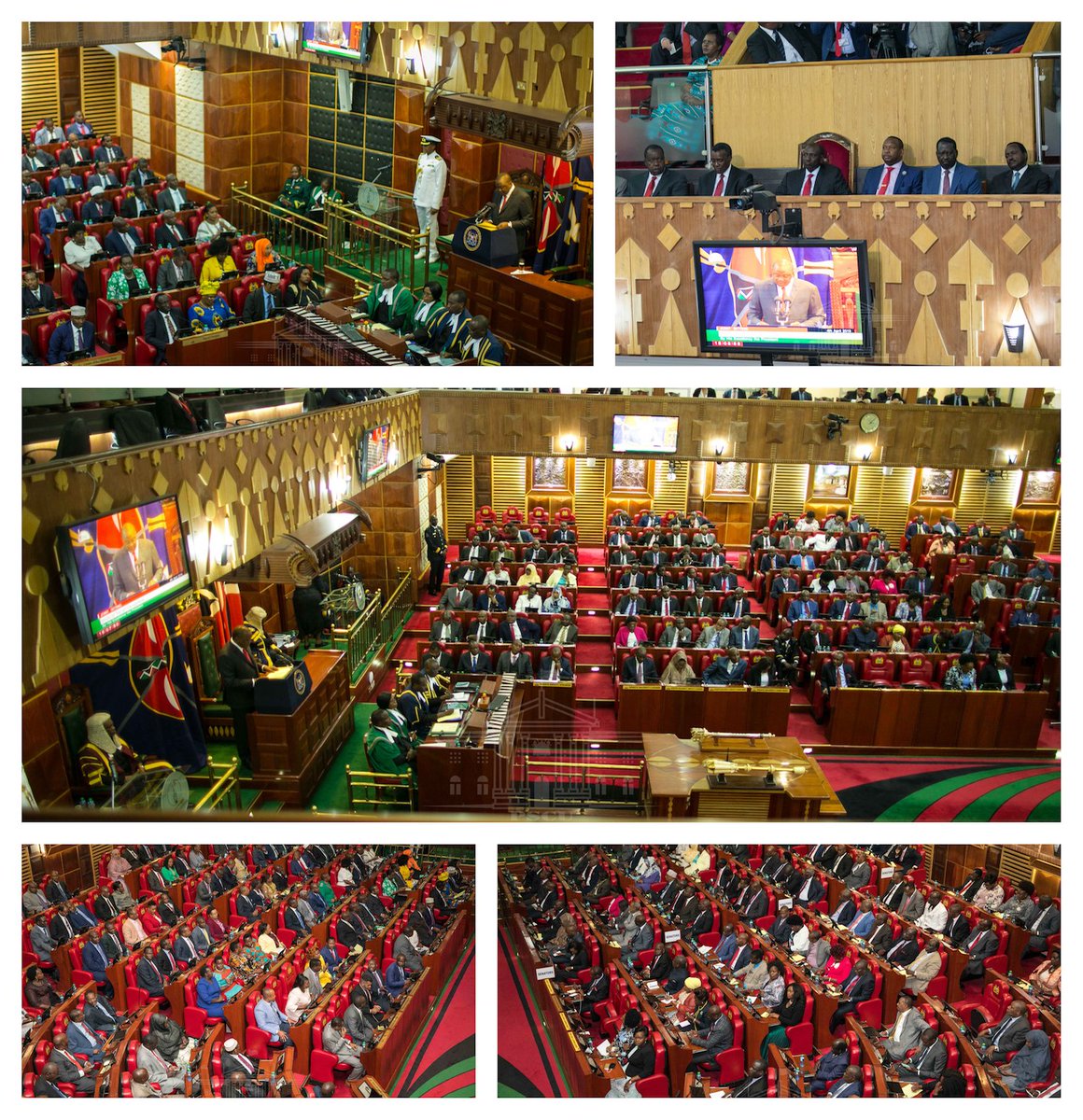 Kenyans were demanding for President Uhuru Kenyatta to sacrifice someone in his State of the Nation address. The runaway corruption is too much and something had to give.
One of the names on everyone's lips was embattled Treasury CS Henry Rotich, the man who has been mentioned extensively in the Arror and Kimwarer dams scandals.
But amidst all the expectations, someone warned Kenyans not to expect their President to do anything significant on this day, since he has done nothing for the past seven years.
As early as 8Am, Kenyans were already predicting what would be in the president's speech.
But some were hopeful that he will address the key issues facing the country; especially corruption and the recent hunger embarrassment.
Uhuru had personally invited opposition members to come for the big day and Musalia Mudavadi was all teeth in Parliament.
Raila Odinga was taking pictures with his sycophants who still believe he is a little god.
The king arrived a few minutes after 2 pm, accompanied with his embattled Deputy William Ruto. They were dressed in same suits, same color of tie and shoes. Perhaps this was the highlight of the speech.
Five minutes into his speech and Kenyans were already on his neck, the president was boring, very boring.
Instead of firing anyone, Uhuru was cheered by legislators after saying that the fight against corruption will not be won through vigilante justice and pitchfork protest. 'Our actions will not be based on condemnation before one has been heard '
"I've been under pressure to answer who I am sacking, I must, however, caution that the pursuit of the corrupt will be undertaken strictly within the limits of the law," 
In other words, Uhuru was saying he will not fire anyone. We know how our judicial system works.
Anyway, no one was interested in his speech after these words, because it meant nothing, yes nothing.
Someone asked him to at least fire the person who had written his speech.
Even Miguna Miguna, the man who is so keen on details was not happy and he made it known.
We know that 99% of corrupt Kenyans were in parliament on Thursday, and this is one of the reasons why everyone interviewed was praising the president.
Raila Odinga was the biggest beneficiary of this address, as Uhuru said a lot of good things about the famous handshake.
Uhuru also announced that sh.10 billion will be set aside 'to heal the wounds of historical grievance which have long poisoned by our politics and strained communal relations.'
It is no surprise that Raila praised the speech saying that it is not the duty of the president to fire anyone.
It could be that Raila ameshikwa sehemu nyeti na hatujui