In an interesting twist of events, controversial gospel singer Ringtone is once again on Willy Paul's case following the release of his latest song 'Hallelujah' which Ringtone has termed as a 'fornication song.'
Ringtone  took to social media to post to vent out his issues with the new song featuring Tanzanian songstress Nandy.
Ringtone now says he will sue the two singers for disrespecting the Christian faith
"So Willy Paul today I just want to address you over your song because I just feel Willy Paul that you have disrespected our God. Willy Paul Nandy is not your wife, you are touching her private parts while she is twerking on you and you are saying Hallelujah.
Willy Paul, that woman called Nandy is touching your head seductively, touching your private parts, touching your behind, touching everywhere and you are saying Hallelujah.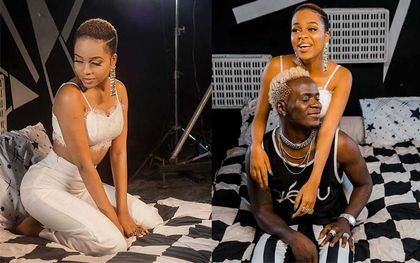 Willy Paul, as Christians in Kenya today, we feel so bad, so much disrespect. You've gone too far Willy Paul and this coming week from Monday, I just want to go to court. I want to sue you for disrespecting our faith." He said.
Both Willy Paul and Nandy are yet to respond to Ringtone's threats.