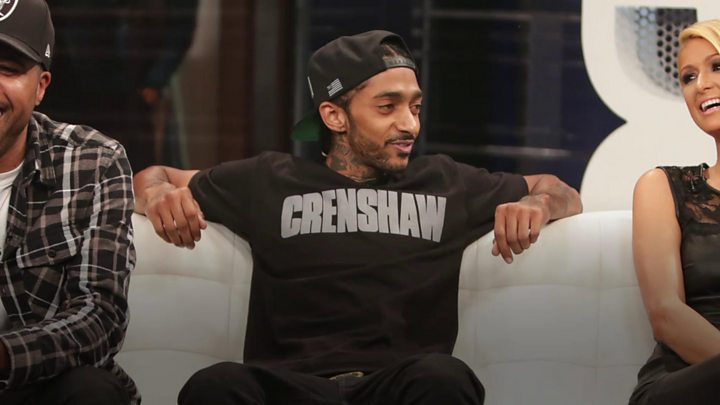 According to reports from security officials, suspect in the murder of Los Angeles rapper Nipsey Hussle has been arrested.
Eric Holder, 29, had been on the run after fleeing the scene of the shooting in a waiting car, Los Angeles Police Department said.
Hussle, 33, was gunned down outside his clothing store in Los Angeles on Sunday.
Investigators believe the shooting was the result of a "personal matter" between Mr Holder and Hussle.
Los Angeles Police Chief Michel Moore told reporters the suspect had a verbal altercation with the rapper.
Mr. Moore said at one point the suspect left but then came back with a gun and opened fire.
what surveillance footage shows
Surveillance footage shows a man in a dark shirt firing at least three times before fleeing, TMZ reported. Two other people were wounded in the shooting.
4:05 PM PT — A longer version of the surveillance video shows the shooter — the man in the dark shirt — opening fire 3 separate times on Nipsey Hussle. He shoots Nipsey once … starts walking away … then comes back a second time and shoots again, and then a third time.
After the third time, he kicks Nipsey and flees back toward the alley … where we initially saw him enter the video.
What witnesses said
Multiple sources said that before the shooter unloaded, he had a tense conversation with Nipsey. They informed that Npsey asked him if he had snitched to cops in the past because that was the word on the street.
We're told the suspect felt disrespected, left to get a gun … then returned to get revenge.
Tributes have poured in for the rapper, whose debut album Victory Lap was nominated for best rap album at this year's Grammy Awards.
Hussle, real name Ermias Davidson Asghedom, grew up in south Los Angeles and was a member of the Rollin' 60s street gang as a teenager.
He later became a community organiser, and was involved with the Destination Crenshaw arts project.
During a vigil for the singer on Monday, at least 19 people were injured – two seriously – in a stampede, which police said began when someone brandished a gun and another tried to disarm them.