Jubilee MPs allied to tanga tanga movement and William Ruto have been accused by Laikipia residents of failure to attend the burial of women rep cate Waruguru.
The resident accused William Ruto of abandoning his late grassroots solder whom she had fought for the DP presidency.
"We expected the deputy president, Kimani Ichugwa, Ndindo Nyoro and governor Waititu to attend the burial or to send the messages of condolence but they didn't this didn't make us stop the burial of Waruguru, may she rest in peace,"John Kagia Laikipia resident said.
On Tuesday locals shocked many after holding a mock requiem mass complete with a coffin, flowers, and cross for their Woman Rep Cate Waruguru.
Waruguru has been in the DP William Ruto defense frontline and the residents claim she is representing them wrongly.
The vocal MP has been going around with Team Tanga Tanga, a group of parliamentarians drumming up support for William Ruto, having very little time to serve her constituents.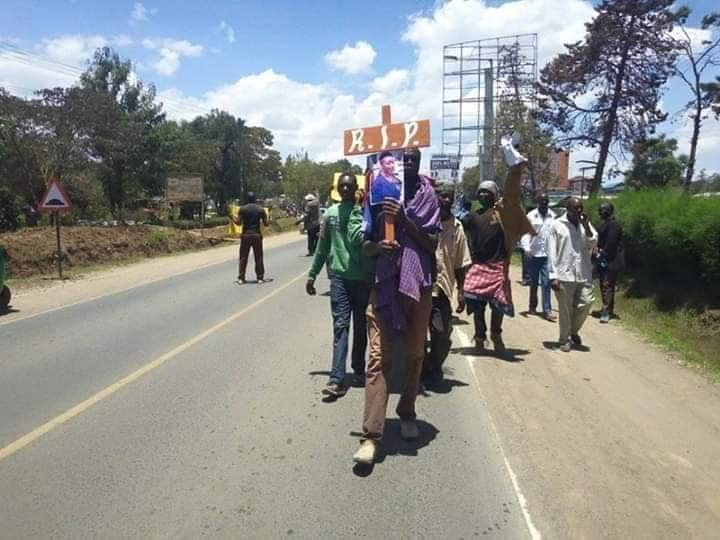 Comprising of touts and drivers who were demonstrating Waruguru's support for private cars operating Public Service Vehicles (PSV).
The demonstrators carried a dummy coffin which they buried at the bus stage according to a statement from the youthful legislator.
"We can be mislead by someone who doesn't know what she is doing,we are tired of his theatrics,just following men day and night but no development on the ground,"they said.
Now the Women rep has called on religious leaders to hold a cleansing prayer noting that its against the norm.
"I am now urging the bona-fide matatu owners to organize a prayer meeting to pray for them, forgive the perpetrators for the heinous act of burying a coffin at the bus park, we call upon the religious community to hold a prayer meeting to cleanse the bus park and Matatus in general," she posted.
Locals have now vowed to demostrate across the county calling for her impeachment if she wont change her mode of leadership.