Days after National Environment Management Authority (Nema) moved to ban non-woven bag, NEMA boss -Prof Geoffrey Wahungu, was on the receiving end of a barrage of responses to his newly proposed bags.
In a notice on local dailies last week, Nema asked traders to halt manufacturing, importation, supply, distribution and use of non-woven polypropylene bags from March 31, 2019.
Mr Wahungu had shared the latest photos following his move to crackdown on non-woven carrier bags since April 1, 2019.
"We are not going to tell them our strategies; that today we will raid Mombasa, Nairobi or Nakuru. To be clear, from today, non-woven bags are contraband and people will be arrested," Prof Wahungu decreed.
The non-woven bags, introduced in 2017 after the ban on plastic, were initially deemed to be eco-friendly.
The market has however been flooded with low quality versions which the authority says can not be used multiple times and are disposed after single use.
Majority of the Kenyans felt that the newly recommended basket pushed the envelope a tad bit too far.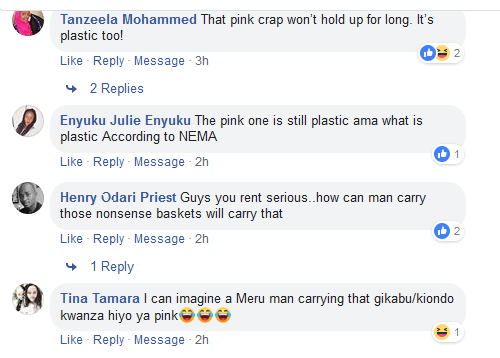 The Environment Ministry had in August 2017 banned the use, manufacturing and importation of plastic bags used for commercial and house hold packaging in bid to conserve the environment.
The non-woven bags, christened Uhuru bags, were preferred as an alternative.

Failure to comply will attract a fine of not less than Sh2 million and not more than Sh4 million, or imprisonment of a term of not less than one year but not more than four years or to both.