Promising Appie Nouri turns 22 today and despite his career being over before it had really even started, his former teammates at Ajax will never forget him.
There was one name on the minds of Ajax fans and players the other night at the Bernabéu: Appie Nouri. We won't give up on you. pic.twitter.com/1u1F42LaDt

— Oh My Goal (@OhMyGoalUS) March 7, 2019
In July 2017 in a pre-season friendly against Werder Bremen, Nouri collapsed on the pitch and was immediately treated by paramedics before being airlifted to hospital.
Today is Abdelhak 'Appie' Nouri's 22nd birthday.

In July 2017, the Ajax man suffered a heart attack which led to permanent brain damage.

He didn't wake from his coma until August 2018.

Many of his former teammates now wear the number 34 to honour him. pic.twitter.com/mokCbmyuh5

— MobileBet (@MobileBetUK) April 2, 2019
It was then revealed that 'Appie', who has been with Ajax since the age of nine, had suffered serious and permanent brain damage.
Nouri's brother, Abderrahim, confirmed that small progress had been made regarding his condition just over a year ago when speaking to NOS in August but it's highly unlikely that he will be able to play football again.
But those who played with him will continue to remember him during the course of their respective careers by wearing his Ajax squad number.

"Abdelhak Nouri is by far the most gifted player that I have ever played with."

Philippe Sandler made his long-awaited Manchester City debut today. Wears the No. 34 shirt in honour of him pic.twitter.com/WnN45a6GqJ

— Mohamed Moallim (@iammoallim) January 6, 2019
Philippe Sandler, who spent time with Nouri as a youngster in the Ajax youth academy, asked for #34 upon signing for City from PEC Zwolle as he wanted to honour him.
Appie had so much potential
arguably the best midfielder(even player) of his Ajax generation
life ain't fair, forever in our hearts Appie Nouri❌❌❌34❤

— Ptolemy (@akinjide_) April 2, 2019
He entered the fray as a second half substitute in the 7-0 FA Cup third round thrashing of Rotherham in January, with Nouri's number on the back of his shirt and on his shorts.

Roma's Justin Kluivert, Napoli's Amin Younes and Fiorentina's Kevin Dijks are also paying tribute to their friend by wearing his number for their clubs.
Justin Kluivert has scored his first-ever Champions League goal 🙌

He celebrated by paying tribute to former Ajax teammate Abdelhak Nouri ❤️ pic.twitter.com/3liFmhA1rK

— Football on BT Sport (@btsportfootball) October 2, 2018
The former went a step further by holding up a Roma shirt with 'Nouri #34' on the back when he scored his first Champions League goal for Roma in October, at the Stadio Olimpico.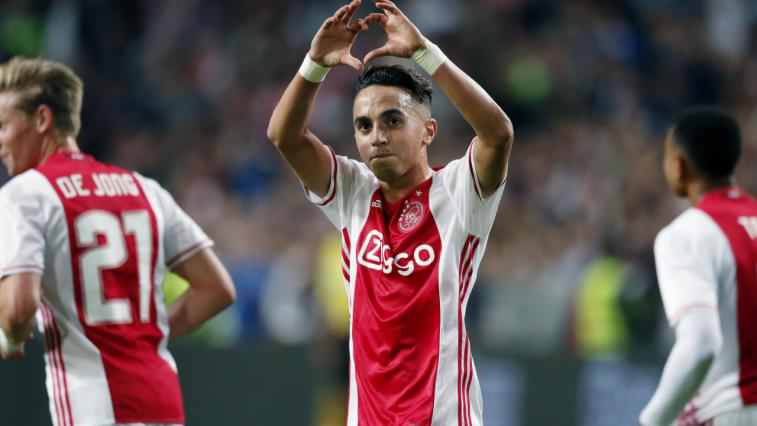 Ajax have a tribute display to him outside the megastore at the Johan Cruyff Arena, while they also renamed their young player of the year award after him and redesigned the trophy to mark his trademark celebration.
Appie Nouri turns 22 today.

This is the story of the Ajax star who suffered a cardiac arrest on the pitch, but continues to inspire his former team-mates. #StayStrongAppie pic.twitter.com/1lenU7lv0I

— B/R Football (@brfootball) April 2, 2019
Barcelona's Ousmane Dembele never played with Nouri but he was so touched by the tragedy that he has the youngster's name and number on his boots.
📸 | Dembélé will have "Nouri 34" printed on his boots this season. A beautiful gesture to the young Ajax talent who collapsed on the pitch one year ago. pic.twitter.com/iTM3cVer03

— Barça Universal (@BarcaUniversal) August 10, 2018
He also invited Nouri's brother to the Champions League game between Barcelona and PSV in October.
Appie Nouri is a Legend. We wasn't granted the opportunity to win all our hearts directly through his football career but GOD has given him the opportunity to HELP and SAVE millions through his foundation. 😭😭😭😭😭😭😭😭😭😭😭😭😭😭😭😭😭😭😭😭😭😭#StayStrongAppie❤️❤️❤️ pic.twitter.com/7XMsqxTYka

— 🇿🇦☠️TH€ V!K!NG☠️🇿🇦 🏹⚔️⚒️🗡️🛡️ (@SAMiR_5777) December 12, 2018