The summer transfer window it's not only anticipated in Europe but also here in Kenya as the Sportpesa League defending Champions Gor Mahia are doing everything possible to keep their key striker at the club.
Also…., Arsenal regained their London Bragging rights after a victory against Arsenal that helped them move to position three o the Premier League top four race.
And..…. Despite all the excellent changes he has brought to Manchester United and the eleven years he spent at the club before, boss Ole Gunnar is not really a Red Devil. So it was revealed.
Top of the news was however Gor Mahia revealing why key striker Jacques Tuyisenge is at the club to stay.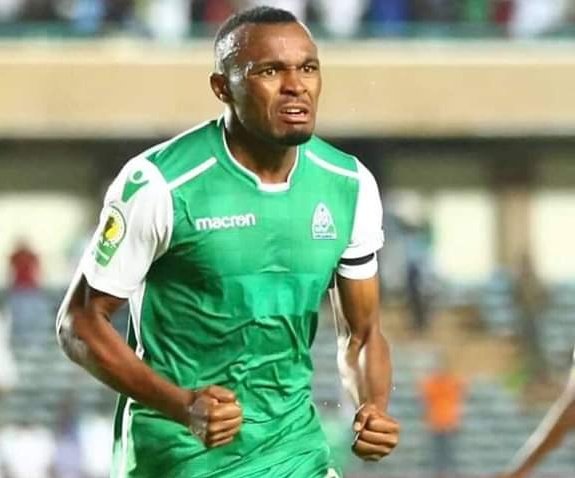 Kenya's top league club K'Ogalo has remained adamant that the Rwandan striker will extend his stay and has no intentions to leave for greener pastures.
Gor Mahia has denied claims that Jacques Tuyisenge has left the club for Simba SC in Tanzania.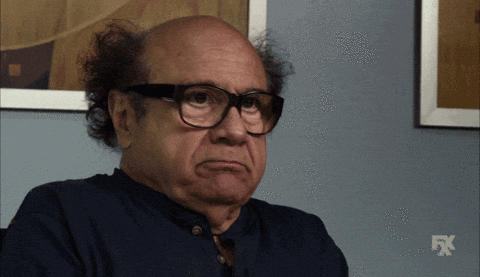 Tanzania TV station Online Dream TV indicated on Monday that the Rwandan striker was already in Dar es Salaam to sign a pre-contract with Wekunduwa Msimbazi.
It is claimed that Tuyisenge was convinced to join Simba by his former partner at K'Ogalo, Meddie Kagere, who has established himself as a lethal striker for the Tanzanian side.
However, club CEO Omondi Aduda has denied the claims, maintaining that the player is currently with the team in Kisumu and that he will hold him to the contract he signed with the Kenya Premier League (KPL) leaders.
"Tuyisenge is under contract with Gor Mahia until the year 2020 and those reports, for now, are not factual. He is our player and any club be it Simba or AS Vita who want to sign him have to talk to us before talking to the player," Aduda told Goal in an interview.
"Fifa rules are very clear on how the player transfer business should be conducted. The club that wants to sign a player from another club has to approach the parent club well before making a move to the player himself.
"If any club will illegally approach our players without our permission, then be sure that we will take them to Fifa.
The football administrator hopes that Tuyisenge will sign a contract extension once such talks commence.
"Talk about another player and not Tuyisenge. I am pretty sure that he loves K'Ogalo and he will want to stay even for another season with us.
"I am convinced that he will be there for long because of the love he has developed for the club so far.
Tuyisenge scored the decisive penalty against Petro Atletico of Angola that sent the Green Army to the last eight of the Caf Confederation Cup.
Tuyisenge, who was signed from Rwandan side Police FC, a club he joined at the age of 16, is also reportedly a target for AS Vita Club of DR Congo.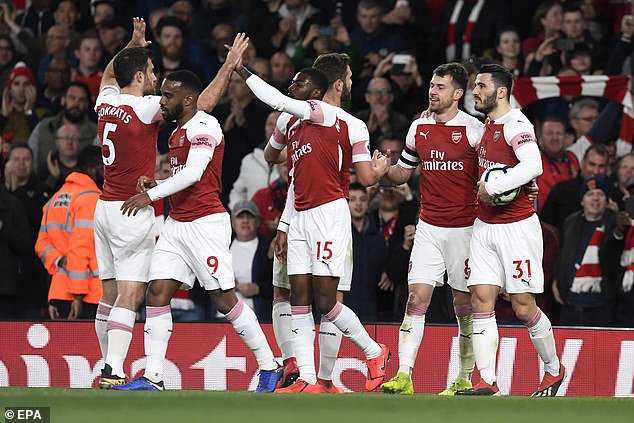 Its all about writing history. Arsenal has now won 10 consecutive PL home games within the same season for the first time in over 20 years.
Arsenal were 10 points behind Tottenham at the start of February but victory over Newcastle took the Gunners two points clear of fourth-placed Spurs and United in fifth with seven league games remaining.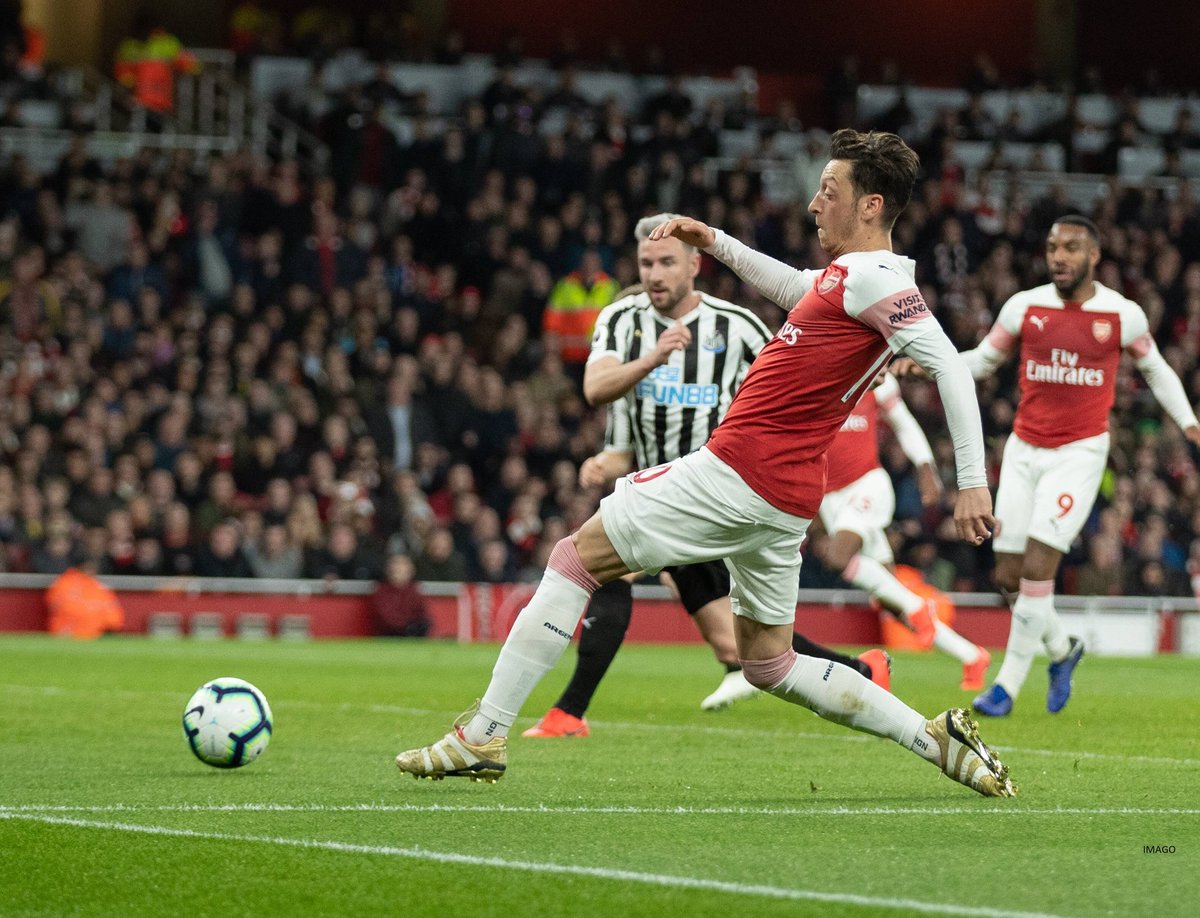 This was a 10th home league victory in a row for Arsenal, their best run since a similar sequence from December 1997 to May 1998, as Unai Emery's team continued a strong second half of the season that could see them secure a return to Champions League action after a two-year absence.
Arsene Wenger's 22-year spell in charge of the Gunners ended with regular protests among the fans as they watched their team drift away from Europe's elite.
But Emery, in his first year in the English game, has galvanised the side with his brand of free-flowing attacking football and this result took them to 63 points – the same that the Gunners managed under Wenger in all of 2017-18.
The hosts thought they had taken a 12th-minute lead, but Ramsey's volley was ruled out as Sokratis was adjudged to have fouled Florian Lejeune.
But the Welshman, who missed his country's two matches during the international break, scored 17 minutes later with a low strike after DeAndre Yedlin's clearance inadvertently fell into Ramsey's path.
Alexandre Lacazette speaks! "It was a big game. We knew it was going to be tough. The coach said we had to be patient and we did it today. We saw many videos. It's always like this against Newcastle. I can feel the difference from last season. Now we may go to the Champions League. I and Pierre are important for the team, like other players. Auba has helped me score many goals and I try to do the same. Why not go to the Champions League? I would like to score a lot of goals away. But if in the end we win it is the most important thing. We are more confident this season and everybody knows what we have to do."
Well not everty Player is having the time of their lives as Arsenal set to replace Denis Suarez with a Premier League goal assist Machine
Arsenal are exploring the possibility of signing Bournemouth assist machine Ryan Fraser as Unai Emery looks bring in a new winger after giving up on Denis Suarez.
The Gunners coach is looking to bolster his squad with as many as five new signings in the summer, with a centre-back, midfielder, left-back and left winger all on his wish list.
Barcelona loanee Suarez, who played under Emery at Sevilla, was supposed to fill one of those positions but has not impressed and is struggling to adapt to English football.
According to The Times, Suarez's failure to make an impact at the Emirates has led to Emery drawing up a list of alternative options, with Fraser one of the top names on the list.
The Arsenal manager wants more threat from out wide and Fraser certainly provides that, having laid on 10 assists in the Premier League this season – only Chelsea's Eden Hazard (11) has more.
The Scotland international has also netted six times, while his versatility – capable of playing on either flank or as a No.10 – adds to his appeal.
Fraser is also out of contract in 2020 and is not close to signing a new contract, meaning Bournemouth could be forced to cash in this summer rather than risk losing him for nothing in a year's time.
Arsenal are likely to have to be creative in the transfer market this summer, with Emery working on a very tight budget unless players can be offloaded and the wage bill reduced.
While the option to make Suarez's loan move permanent exists, Emery has decided not to keep his countryman after making just four unspectacular substitute appearances, while he is also looking to bring in an aggressive, box-to-box midfielder to replace Aaron Ramsey.
Aside from the victory buzz in London, Across in Manchester, It turns out that Man Utd Boss Ole Gunnar Solskjaer is not a Red Devil.
Solskjaer, who spent 11 years as a player at Old Trafford, was recently announced as United's next permanent manager.
The Norwegian has impressed as caretaker boss since taking over following the sacking of Jose Mourinho in December.
He has lost just one Premier League game and got Manchester United competing again for a top four position.
But sources now report that Solskjaer was a fan of United's bitter rivals Liverpool when growing up.
They claim that it is well known in Solskjaer's hometown of Kristiansund in Norway.
The revelation comes despite Solskjaer regularly describing his love for Manchester United.
When taking the United job, he said: "Manchester United is in my heart and it's brilliant to be coming back in this role.
"I'm really looking forward to working with the very talented squad we have, the staff and everyone at the club."
Liverpool are currently top of the Premier League, 18 points ahead of Solskjaer's United.
And former Red Devils star Gary Neville has spoken out on what Solskjaer needs to close the gap.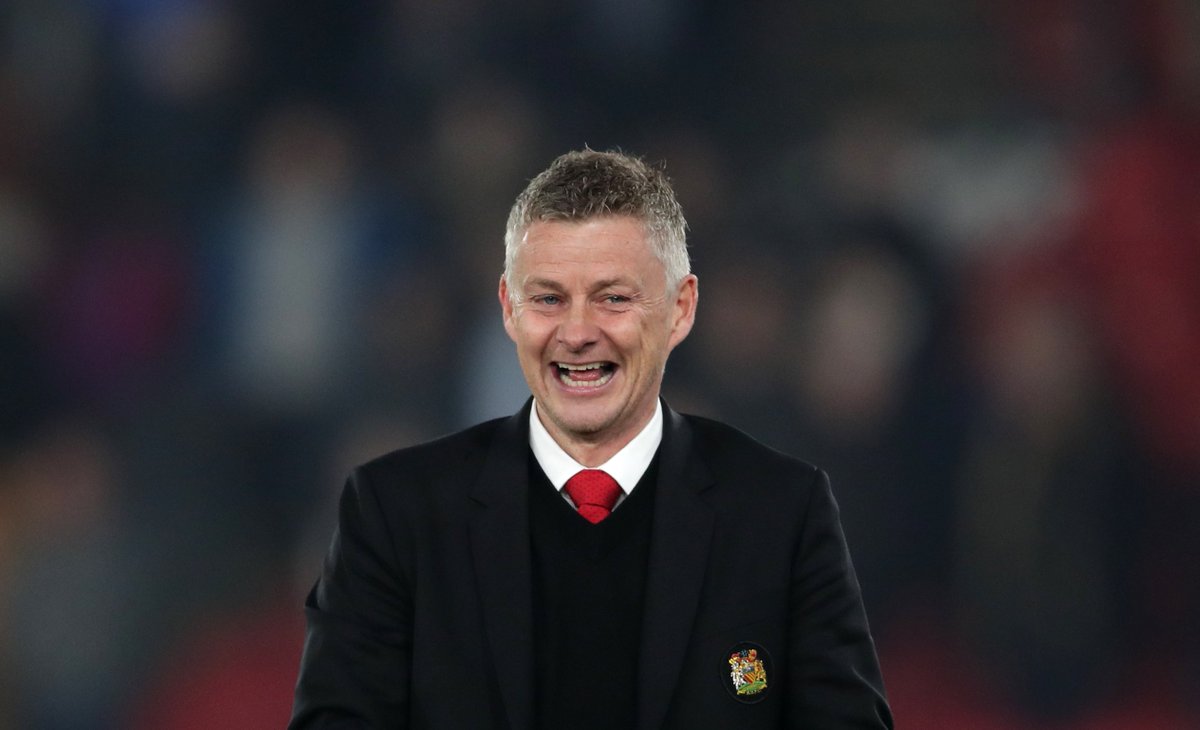 "Over the last six or seven years, United have put £700m into that squad, and they're still falling well short of where Liverpool and Manchester City are at the moment – they're 16-18 points behind," Neville said.
"So what you have to look at is how United bridge that gap, and yes they will do that through the spirit that Solskjaer has created, but they have to get better players on the pitch that can compete with Liverpool and City to go along with some of the very good players they've already got.
"United have a big, big job.
"There are four or five players that Solskjaer will want to keep that are out of contract and he needs to tie down.
"There are four or five players he will need to bring in, and there are probably four or five players that he needs to get out."
They say we learn from our own mistakes. Mauricio Pochettino nods to a reality check for Spurs endeavor in the title race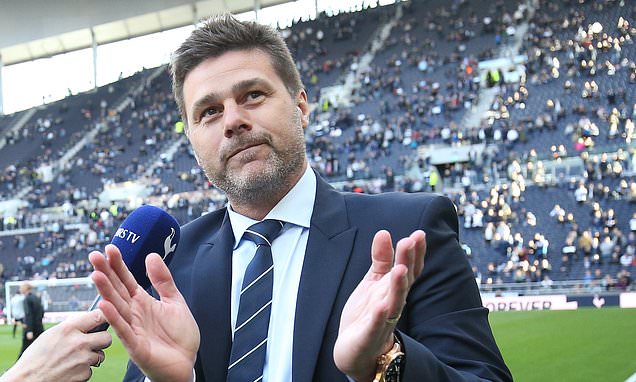 London based Tottenham Hotpurs are without a doubt loosing it big in the Premier League,the once big gap has been slowly but closely been reduced.
They now sit fifth in the EPL table with equal points with United with just a high number of goals and just one point ahead of sixth placed Chelsea.
Tottenham's alarming loss of form threatens to take the gloss off the long-anticipated opening of their flashy new stadium as they contemplate a season without Champions League football.
Mauricio Pochettino's side stayed in touch with Liverpool and Manchester City for two-thirds of the season as recently as February 2, Spurs were in second place in the Premier League.
But they are now 16 points adrift of City and 18 behind Liverpool and a single point separates them from Manchester United, Arsenal and Chelsea in the race for the final two Champions League qualification spots.
"It's a little bit of a shame that we're not there fighting as well," admitted Pochettino after Tottenham's defeat at Liverpool on Sunday, courtesy of an own goal from Toby Alderweireld.
"We were but in the last few weeks we have started to find our reality, our place."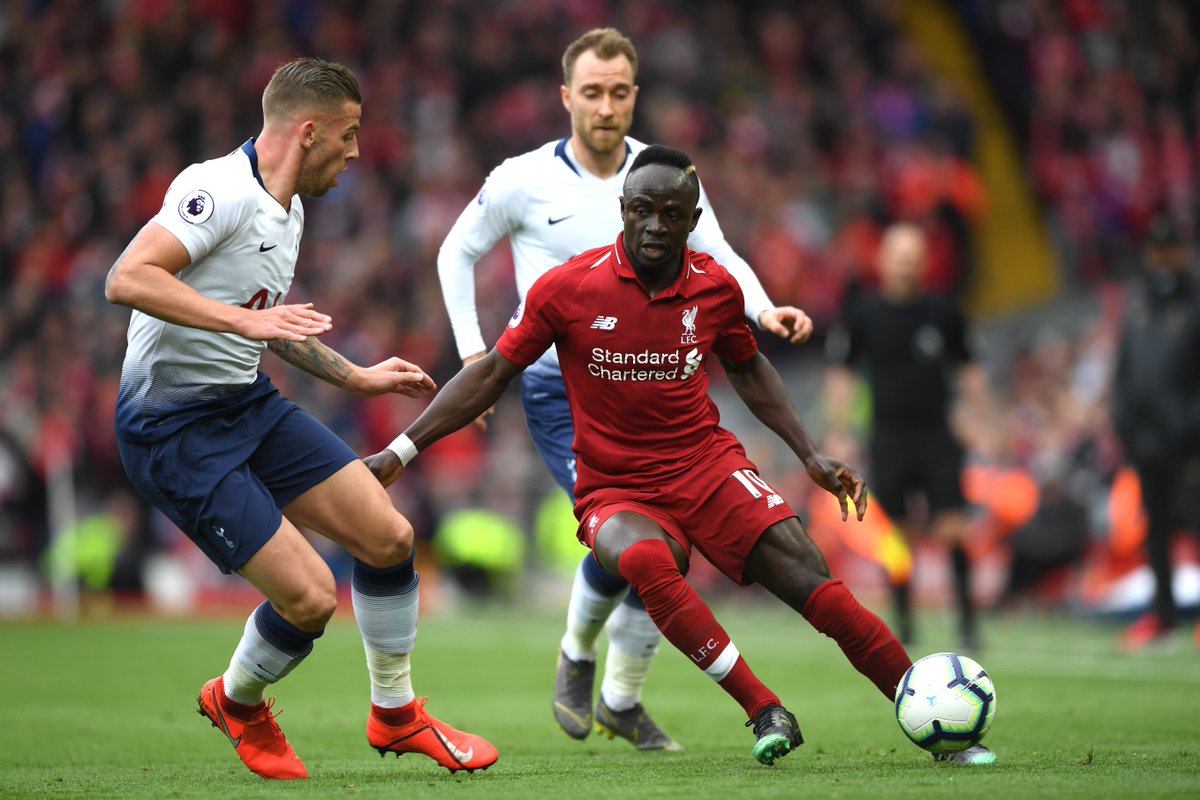 Despite their recent run of bad results, Spurs under Pochettino have punched above their weight, without a single signing in the past 15 months and a wage bill that amounts to a fraction of their top-six rivals.
Pochettino was keen to stress that point, calling his players "heroes" for coping with the demands of a stretched squad, which has had to cope with the impact of fatigue on eight World Cup semi-finalists, and the disruption of playing at Wembley while waiting for their new stadium to be ready.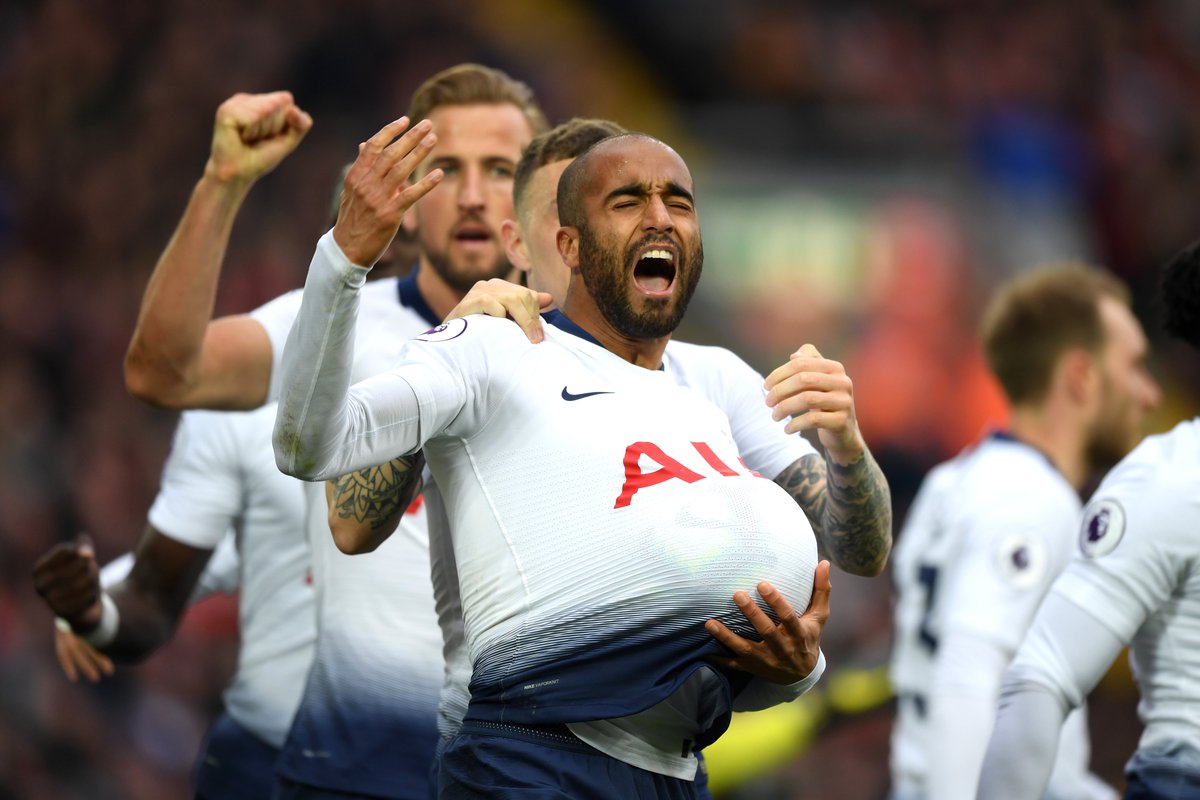 "When someone wants to give an opinion about the team or the club, always you need to put in the circumstances. Not only to judge Tottenham because you see them play or their position in the table," added Pochettino.
"After nearly two years of playing at Wembley. Moving from one stadium to another, now moving again. I think my players are heroes and deserve a lot of credit."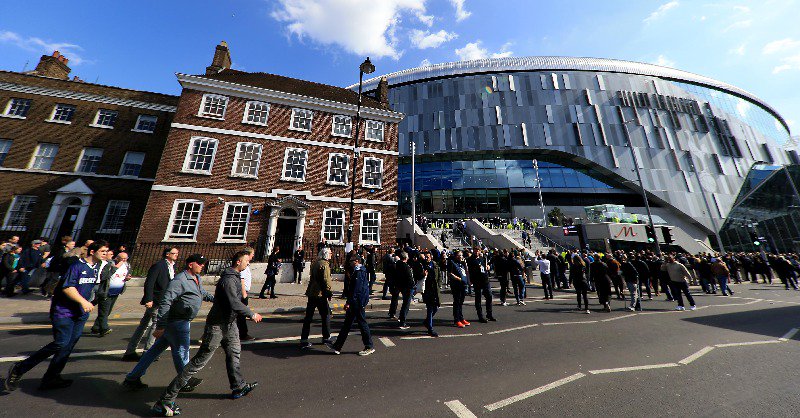 Spurs will finally play their first match at their new 62,000-capacity ground against Crystal Palace on Wednesday.
They are into the Champions League quarter-finals for just the third time in their history, where they will face Manchester City, with the new stadium designed to solidify their position among Europe's elite and ensure they can compete financially in the future.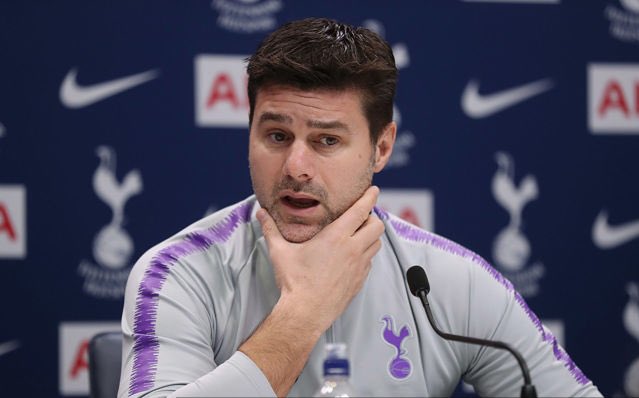 Much of that, though, depends on the revenue from the Champions League football they have become used to under Pochettino.
Despite a fourth defeat in five Premier League games, there were also green shoots of recovery for the Argentine to hold onto at Anfield.
But for Moussa Sissoko's glaring miss five minutes from time and Hugo Lloris's latest calamitous error in goal, Spurs should have become the first side to beat Liverpool on home soil for nearly two years in the Premier League.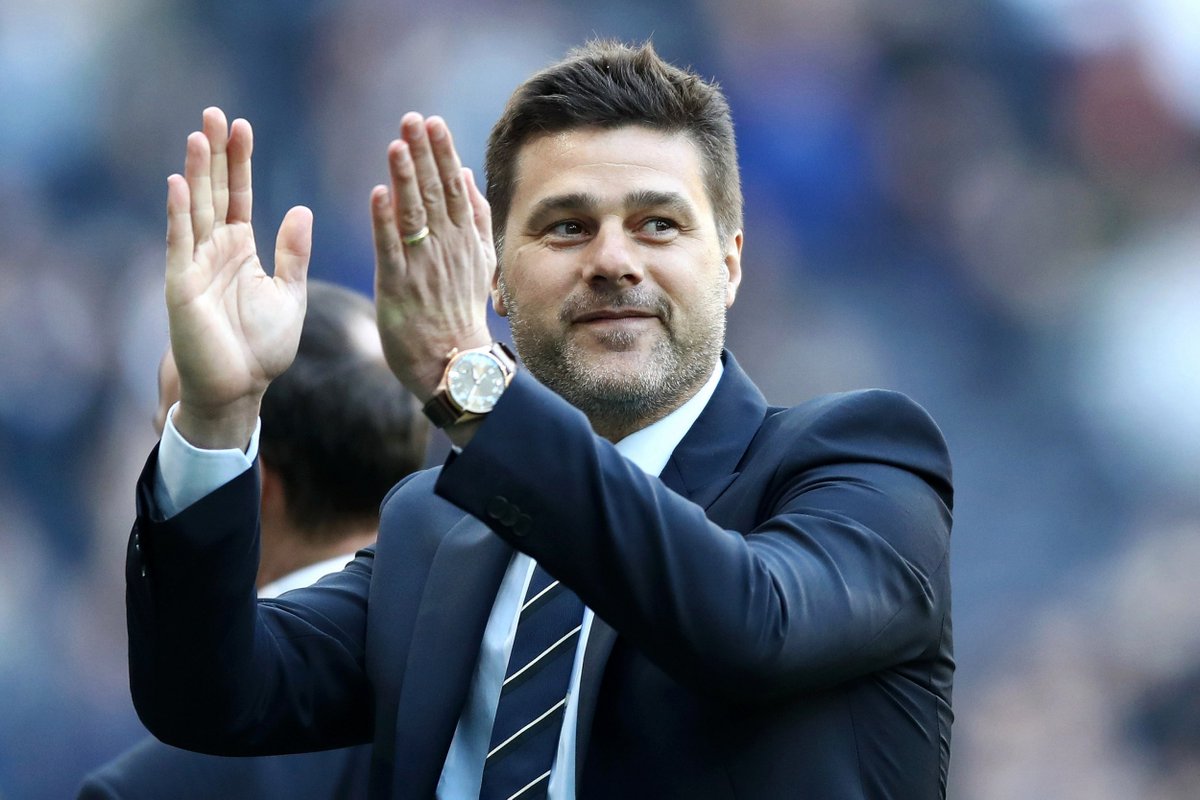 Tottenham's position in the battle for a top-four finish is now a precarious one. They could even find themselves down in fifth place by kick-off on Wednesday should Arsenal and Manchester United both avoid defeat in their games before then.
However, five of their remaining seven Premier League games will be at their new home and against meek opposition in Huddersfield, Brighton, West Ham and Everton after Palace's visit.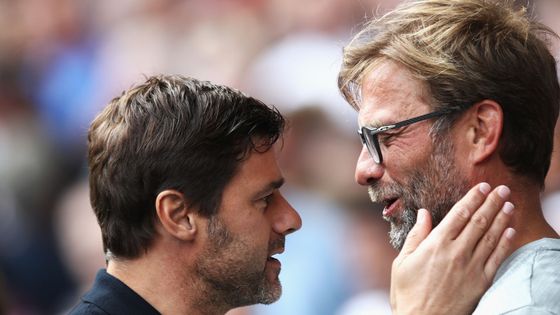 "We need to forget everything and be focused that we have ahead a mini-league that starts on Wednesday in our new stadium and that must be a big boost for everyone," added Pochettino.
"It's in our hands to be in the top four."