England sensation, Callum Hudson-Odoi could have edged closer to a Chelsea exit on Sunday – putting Liverpool, Manchester United, Barcelona and Bayern Munich on high alert after being left in Cardiff clash.
Blues' manager, Maurizio Sarri came under fire from fans after he left Hudson-Odoi on the bench for his side's 2-1 victory at Cardiff on Sunday.
3 points stolen….well happy with that,made the journey worthwhile. .does not paper over the cracks. .we were dreadful and that arrogant cunt put 7 on the bench,possibly our best 7 players..Hudson-Odio I feel for you…suprise suprise Hazard&Ruben on,we looked half a team !

— Ian Turpin (@IanTurpin) March 31, 2019
The snub came despite the 18-year-old having impressed on his first start for England in their 5-1 Euro 2020 qualifying victory over Montenegro last Monday.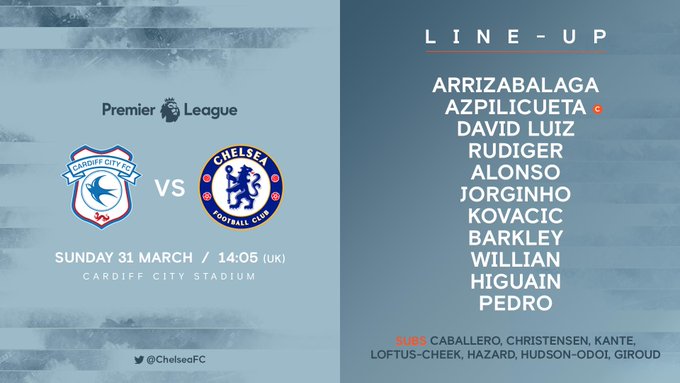 Sarri has continued to overlook youngster Callum Hudson-Odoi despite growing calls to give him his first Premier League start.
🗣️ "I'm getting used to this"

Chelsea manager Maurizio Sarri reacts to Blues fans calling for him to be sacked during their 2-1 victory at Cardiff.

More: https://t.co/V08C90trdE pic.twitter.com/MfZIUUI9al

— Sky Sports Premier League (@SkySportsPL) March 31, 2019
Sarri's treatment of Hudson-Odio is like Mourinho's treatment of Martial. #CARCHE

— #TeamLH44 (@Nadal_LH_Fan) March 31, 2019
Interest in the forward has grown in recent weeks as he has continued to be frustrated by a lack of opportunities at Stamford Bridge.
According to German outlet Kicker, Liverpool have already made contact over the 18-year-old.
"HudSON OdIO PlaYeD oN MoNdAY" pic.twitter.com/0CPRz16BrU

— Josh Ditchett (@JoshDitchett) March 31, 2019
Hudson-Odoi could be tempted to follow the trail blazed by pal Jadon Sancho , who left Manchester City and is now starring for Borussia Dortmund.
📰 TODAY'S NEWS
⚽ Chelsea FC
📆 January 29, 2019

– Callum Hudson-Odoi won't join Bayern Munich from Chelsea in summer – Sarri
– Chelsea's Hudson-Odio should show 'respect' to club/s academy – Sarri
– How Wolverhampton Wanderers helped Alvaro Morata leave Chelsea pic.twitter.com/ImBfZqQ6GM

— Football⚽️InfoData (@FInfodata) January 29, 2019
@AFC_Gal afternoon jody sarri treatment of Hudson Odio was a disgrace he wanted to join Bayern Munich but he kept him at Chelsea and his excuse for not seeing pepe is beyond belief X🌷

— JOHN Raftery aka Gooner joker (@G00NERJOKER) February 13, 2019
He has also been linked with Manchester United and Barcelona, while Bayern Munich attempted to sign him in January but had a £35 million bid knocked back.
Sarri's treatment of Hudson-Odio is like Mourinho's treatment of Martial. #CARCHE

— #TeamLH44 (@Nadal_LH_Fan) March 31, 2019