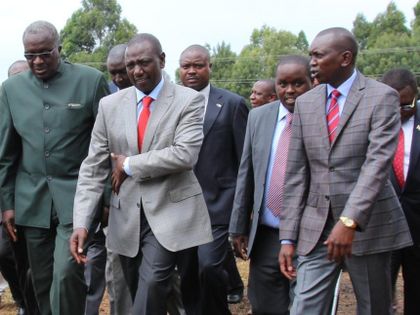 It is a pity that Rift Valley politicians think they can still invoke the 'our community is being targeted' slogan can solve all their problems in 2019.
These idiots are still living in yester-years. That is why people like Oscar Sudi can go to a public function and start talking about war like it is 1809.
If Oscar Sudi and his master thinks Kalenjins can fight for him then he is very wrong, the community has woken up.
Sudi seems to be suffering from a very dangerous disease called verbal diarrhea but if he thinks war can fix it, then he should take his wife and children to Kismayu. There is enough war.
Some Kalenjins have told the stupid parliamentarian that the only war they will fight now and in future is the war on poverty.
And of course we know that Kalenjins have been the most affected by the massive corruption in the Jubilee government. The Arror and Kimwarer Dams were supposed to serve Kalenjins. The NCPB scandal affected Kalenjin Maize farmers.
Alafu does this man really think that threatening other communities will give William Ruto the Presidency?
Ruto must and should tame his dog before it comes back to bite him. Hii story itamnyima State House.
If someone is stealing, then he is not stealing with his community. Beba Mzigo wako pekee.