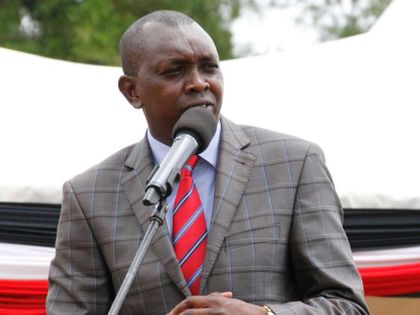 I don't know what this man Oscar Sudi smokes, but he should probably change his supplier because that thing is not even weed.
Over the weekend, the Kapseret MPs, made sentiments directed towards the Luo Community saying that they can't sustain a 2-hour fight.
'Nyinyi wengine ni watu tunawezacontrol nyinyi tukienda kwa upande wa vita. Ile wakati Raila alituletea Vitina hapa, Wajaluo walitupa mawe for two hours na wakatoroka.'
The controversial politician, who has publicly revealed that he does not have education papers has come under a lot of criticism on social media for trying to initiate ethnic violence.
Unfortunately for him, Kalenjins have distanced themselves from his sentiments saying he does not have authority to speak for the community.
Ainabkoi MP William Chepkut advised Sudi to arm his wife and children and take them to Kismayu if he wants war.
"Oscar Sudi trying to please his master has no Audacity to speak on behalf of us kalenjins who are not ready to fight anyone even a statue of a kikuyu figure." Chepkut said on his Twitter handle.
Some Kalenjins have wondered how they will tell their Luo friends that Sudi is speaking for himself.
Does Sudi really know what happened in 2007?
Luos and Kalenjins have a lot in common. They are both Nilotes.
There have been an uproar on social media over his sentiments, with some people targeting the Kalenjin community.