But as far as pranks go, it was total disbelief when a respected national paper fell for what was otherwise an audacious ruse with readers of Kenyan newspapers
The Star waking up Wednesday to a back page story torn straight from a hoax report in rival People Daily.To compound the saga, local football website, futaa.com ran a second day story of the subject of the trick denying he had sneaked out of the target club without permission, quoting him refuting the claims in what was a sound victory for the wisecracks that hatched the April Fools' story.
Kenya Films and Classification Board (KFCB) was banning fat people from appearing on live TV. The prank went on to state that people deemed as too slim, lithe or thin would not be spared when the hatchet came swinging. It was  prank yes, but that one that seemed to have gone over. Several radio stations in Kenya held discussions based on the same premise-  whether fat or thin people should go off air. One of the people who had the misfortune of being part of the loose banter was Willis Raburu,a media Personality in one of the leading stations in Kenya.
The name "Ongoma Avrili Wani" appeared for the first time in the Nation on Saturday with an exclusive story about a proposed missile base for North Korea in Northern Kenya.
It was a shocking "revelation" on a deal with the isolated Asian state that has nuclear ambitions and has been testing missiles against international concerns.For those who did not have a look at their calendar, it was a matter of grave concern. But for those who recognised it was April Fools' Day, a dose of scepticism — and probably a dismissive laugh — were good enough. A number treated the "revelation" as a true story.
Th computer app Google hastily removed an April Fools' Day feature on Friday that allowed Gmail users to send emails and not see the replies, after the joke fell very flat with some people.
The prank, called "Mic Drop," gave users the option of sending emails through a special send button that – if the person replied – did not show the response.
The users could ignore the feature, but some apparently clicked in error on the special button instead of the usual button."Well, it looks like we pranked ourselves this year.
Due to a bug, the Mic Drop feature inadvertently caused more headaches than laughs," Google said in a Gmail blog post after its help forum filled with complaints.
Governor Mandago on the stepping down Prank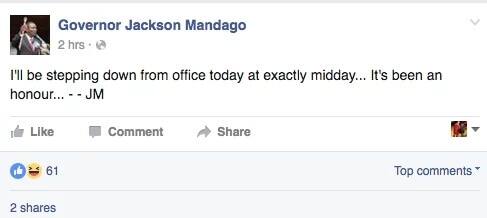 Uasin Gishu governor Jackson Mandago on Thursday April 1, 2016 duped the public that he was vacating office. Mixed reactions followed in the barrage of comments, with fans begging the governor to keep his job, critics celebrating, and other sharp individuals noticing what day the announcement had come.
If you did not fall for the pranks, chances are that either you lack curiosity or you're planning some real mischievous prank on someone else. If latter, then take it easy on others because if a joke gets serious, it can cost you and others much more than a good laugh!