Deputy President William Ruto has reiterated his intentions of becoming an evangelist after retiring from politics.
Daily Active can confirm that Dr. Ruto, in his early age was an evangelist even before getting married to his lovely prayerful wife, Rachel Ruto.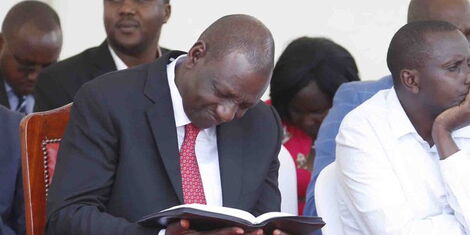 Addressing congregants on Thursday during the opening of the 2nd Refreshing The Shepherd Conference at Kasarani Gymnasium, Nairobi County the second in command stated that he will join men in cloth to spread the word.
Earlier in February during an interview, DP Ruto claimed that if he were not a politician, he would have been a staunch evangelist.
Ruto was a one-time chairman of the University of Nairobi's Christian Union, CU choir.
While leading the CU choir at the UoN, he used to get a lot of invitations to perform at State House.
This revelation has caused mixed reactions among KOT.
Some reactions are as below.
Nobody can attend a Church where Mr.Ruto is doing evangelistic work…Never try….Dams are crying, Lands are crying, Donations are crying, tenders are crying

— kenneth oborah (@amukah) March 28, 2019
Just maybe pic.twitter.com/Kv24GJZKnj

— Abu Nana 🇰🇪 (@BeingRamos) March 28, 2019
March 28, 2019
We don't care. pic.twitter.com/AIwZImD0Ql

— Steven Adogo (@adogo_steven) March 28, 2019
If it's so, then please @WilliamsRuto act as an evangelist even now. Evangelist don't lie in broad daylight that no one has died of hunger yet there is more than enough evidence to prove so, neither do they lie that only 7 B has been lost yet it's a whooping 21 B tax payers'

— Preence Nicholas (@NicholasPreence) March 28, 2019
Nobody can attend a Church where Mr.Ruto is doing evangelistic work…Never try….Dams are crying, Lands are crying, Donations are crying, tenders are crying

— kenneth oborah (@amukah) March 28, 2019
Qwani umeanza kushikwa na tamaa ya sadakanomics………

— Ômàribâ Brävin (@BravinOmariba) March 28, 2019
A what? pic.twitter.com/tq9uPVkwm2

— Darryl (@aquemaniac) March 28, 2019
Dude!! pic.twitter.com/2LPGwREMPY

— It'sJozyjagat_sr✊🏿 (@Jozzyjagatsr) March 28, 2019