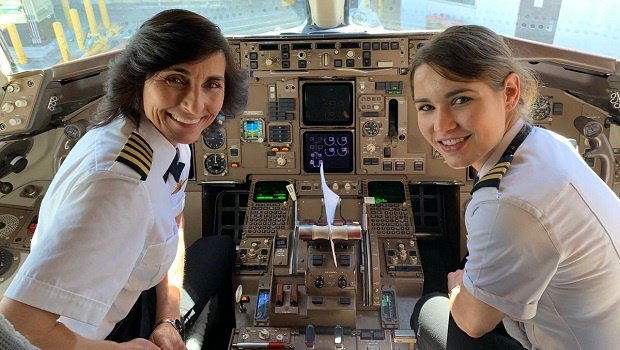 Women empowerment just got to a whole other level when photos of her mother and daughter pilot team made rounds on social media, leaving a trail of amazed reactions.
Wendy Rexon and her daughter Kelly Rexon flew the Delta air lines flight from Los Angeles to Atlanta as a team.
The picture was taken by awestruck passenger John Watret, who posted it on Twitter captioning it: 
"Just flew from LAX to ATL on Delta piloted by this mother daughter flight crew. Great flight. Inspiring for you women."
Speaking to Embry-Riddle Aeronautical University, John says he found out about the Rexons after a woman boarding the aircraft asked a flight attendant if her children could visit the flight deck.
When they returned, he overheard them talking about how it was a mother and daughter flying the plane. "I thought that was amazing. I was in awe, and asked if I could visit them, too," he said.
During his short visit, he discovered that Kelly's sister is a pilot too, an even better twist to the story.
The two have since basked in the light of social media popularity as a source of inspiration for women, who are seldom highlighted in the field of aviation.
The post has been widely shared and has more than 50 000 likes and more than 17 000 retweets, as many people note how inspired they are by the two.
According to the Federal Aviation Administration's 2017 data obtained by Women in Aviation International, women pilots represent only six percent of the total pilot population.
The data reveals that in 2017, only 42 694 of 609 306 pilots were women. That makes the chances of having two female pilots who are in the cockpit – let alone mother and daughter, incredibly rare.