Not one to mince his words, Nandi Hills MP Alfred Keter comes out as bold and unshaken. No doubt his hard-hitting remarks has ruffled many feathers. This, however, does not come as a surprise to his wife, Joan Keter
Watching Alfred Keter and his wife Joan enjoy each other's company during their youngest daughter's first birthday party, you get a picture of a couple deeply in love. They steal glances, smile, tease each other and engage their children playfully as their close friends and family watch.
The Nandi Hills legislator is a familiar personality in the Kenya political scenes. He is outspoken and not one to be cowed. Sometimes he comes out as rebellious, even challenging his party and government.
He had differed publicly over the dissolution of United Republican Party (URP) to form Jubilee Party until consultative forums to weigh the pros and cons of dissolving the party were done.
He has made tremendous 'noise' over corruption in the government. He once told President Uhuru Kenyatta and his deputy William Ruto to get rid of 'thieves' in their midst.
In 2014 he objected to the building of the Sh447 billion Standard Gauge Railway (SGR) and insisted that the cost was inflated by up to three times.
But perhaps many would remember when Keter was captured on video demanding that weighbridge officials in Gilgil release a truck belonging to the Nominated MP Sonia Birdi. But Joan says that she knows this side of him and never shakes when he sees him stepping onto the toes of the 'high and the mighty' because to her 'that is just who Alfred is'.
To Joan, Keter is just, but a leader who plays the role of fighting for his constituents and airing out the devastation of citizens. "His life away from politics is still the same. If he doesn't like something, he says it as it is and will face it head-on. He doesn't like beating about the bush," she adds.
However, Joan, a businesswoman and a real estate developer, says that her husband's boldness, especially at the beginning of his political career worried her, especially for the safety of her young family.
This being her first media interview, Joan told Relatively Speaking that despite his known personality, Keter's other side as a father and a husband is what keeps his young family on the radar.
The alluring Joan is soft-spoken, but eloquent. She recalls their first meeting, which happened unexpectedly and unplanned eight years ago when she was a Bachelor of Commerce student at Strathmore University through a mutual friend.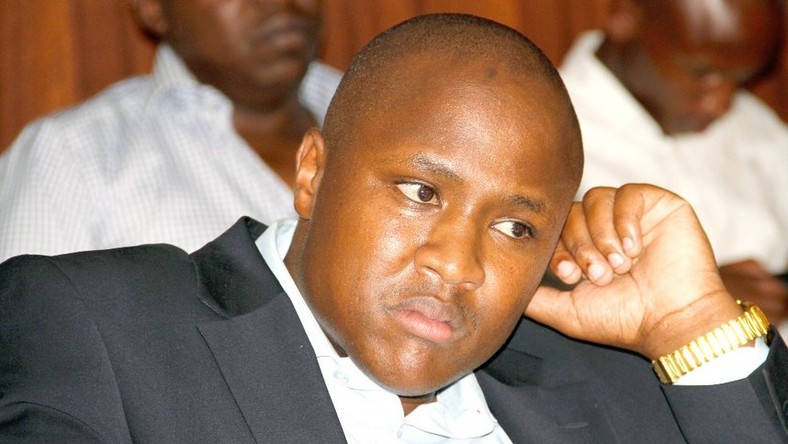 She was in the company of a friend who at the same time happened to be delivering a package to Keter and she had to accompany him. "It did not strike me that we would have something serious with Alfred.In fact, I did not notice him. But he pursued me from that day and we had our first date in a restaurant.
We remained friends until I was convinced he is my Prince Charming" explains Joan. They have been married since 2012 and are parents to two girls, Sasha and Sophie. The fact that they married at the peak of the campaign period made Joan aware of what she was up to.
But she supported him fully. Keter captured the Nandi Hills seat in the March 2013 General Election. Raised up in Nairobi and born to a senior police officer father and a teacher, a political in-law was all new to her family. However, they gave them their blessings. Besides, Joan says that Keter's mother, has also been involved in active politics though never vied for a political seat.
Keter grew up in Ollessos village in Nandi county and was brought up in a family of six — four boys and two girls. He attended Cheplelachbei Primary School and Kapsabet Boys High School.
Joan admits that Keter is not a fan of playing kitchen roles and prefers taking care and playing around with their daughters aged five and one. Despite his busy schedule, the 39-year-old makes time to be with his family.
"Rarely do our girls go to sleep without seeing their father," she adds. Apart from his life in politics, Keter is involved in charity and social work supporting more than 10 children from less fortunate homes who visit the family for a week while on school holidays. Joan is happy that Keter's family embraced her with open arms.
She admits that Keter's mother is her best friend. "I know not many people are blessed to have their husband's family on their good book, but I thank God for I have great in-laws. My sisters-in-law are also my best friends and we get to spend much time than how they do with Alfred. I know it is rare to have such relationships," says Joan.
Despite the chemistry, Joan admits that being a wife to a politician has its ups and downs and involves a lot of sacrifice, especially time. She says that they both have to strike a balance and find time to be together as a family despite their busy schedules.