Civil servants in Lamu County had their day of reckoning as they were put on the sport by their boss, Interior CS Fred Matiangi for lazying around on the job!
Speaking while in Lamu, Matiang'i said that most of the services that have stalled in the grassroots due to lazy public servants neglecting what they are employed to do.
"It has touched me so much," he said, referring to a case where a young girl was defiled but no action was taken against the perpetrator despite the mother reporting.
"I told this OCS that I did not come here to listen to stories. If it has been reported, arrest the suspect and take him to court. We should serve the citizens, that's our work! I want to tell the civil servants in the security sector, we cannot entertain such laziness".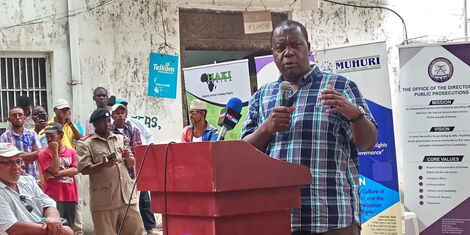 The CS promised to follow up on the matters raised in Lamu, where the Director of Public Prosecutions Noordin Haji was present.
He also acknowledged there is a land problem in the region. He promised to liaise with the Cabinet Secretary for Lands to find a solution.
He also said the Government has lifted the ban on mangrove harvesting and insisted that fishermen will also be registered under National Information Integrated Management System (NIIMS) to be easily identified while at sea.
"I want to be honest here, I have noted that there is a problem with the issue of land here. I'll ask the cabinet secretary for lands Farida Karoney that we sit together in order to get a lasting solution to the issue," he added.
This is not the first time Matiangi has publicly lashed out on incompetent and corrupt civil servants.
A few weeks ago, he scolded civil servants in Narok and demanded accountability for the misappropriation of public funds.