We all must agree that Prof Magoha has a strong personality trait. Magoha was nominated by President Uhuru Kenyatta in changes that saw Amina Mohamed moved to the Sports ministry and her predecessor Rashid Echesa sacked.
A National Assembly committee has approved the nomination of Prof George Magoha as Education CS. The Committee on Appointments vetted Magoha last Tuesday.
In its report on Tuesday, the MPs said Magoha fits the bill, meaning he is just one step away from assuming office.
Speaker Justin Muturi, who chairs the committee, said they approved the nomination, as no memoranda were presented to contest Magoha's suitability.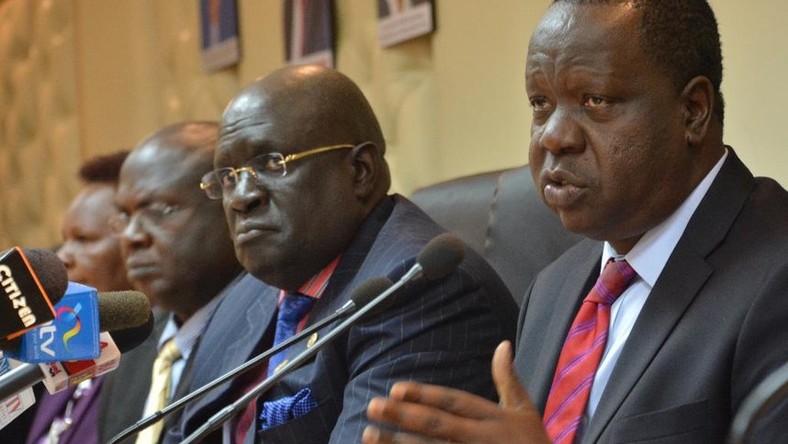 "The committee agreed that the nominee has a strong personality, a trait that would be useful in managing the affairs of the ministry and, in particular, various stakeholders," the report read. Muturi said the committee considered the nominee's curriculum vitae, filled questionnaire and oral submissions.
They cited Magoha's discreet management of national examinations. He has been the chairman of the Kenya National Examinations Council. "He led in reforming the country's examination management, thereby giving credibility and integrity to the examination results," Muturi said.
They also considered his record as professor of surgery at the University of Nairobi, adding that his 31 years of experience in academia, medicine and public service is of great value to the task. Magoha had reiterated his progressive academic achievements, from his formative years at the Starehe Boys Centre and School from 1967 to 1970.
"He exhibited substantial knowledge of matters education and has experience in public service. He, however, will require continuous engagement with various stakeholders to have an in-depth understanding of the education sector," the committee concluded.
It agreed that Magoha complied with the requirements of Chapter Six of the Constitution on leadership and integrity, having been cleared by the EACC, KRA, the DCI and Helb. On his tenure as the chairperson of the Medical Practitioners and Dentists Board, the MPs gave him the benefit of the doubt, acknowledging that he participated in the irregular recognition of an ophthalmologist.
A committee found that Dr Sumira Soni was wrongfully licensed to operate as an eye specialist. "He [Magoha] accepted responsibility on behalf of the board but reiterated that a review process is ongoing to determine and finalise the matter, including the reassessment of the said doctor," Muturi said.
The National Assembly will debate the approval in a plenary sitting on Wednesday. Magoha has been a member of the Medical and Practitioners and Dentists Board since 1999. He has chaired it since 2009.
He was also president of AMCOA between 2013 and 2018, and president of the Association of African Universities (AAU) between 2011 and 2013.
On assuming duty, he will be required to relinquish his role as chairman of the associations. He will also take leave of absence from the University of Nairobi.