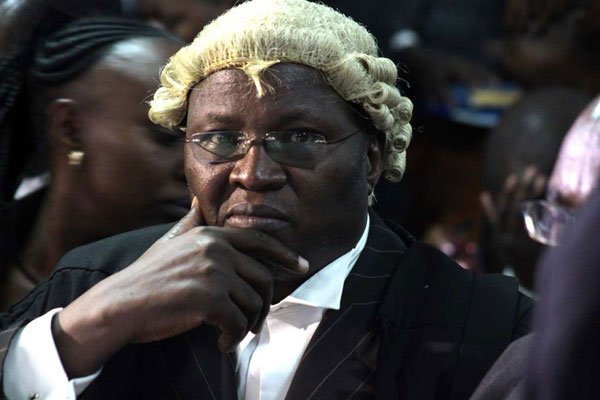 According to a statement from the police Assa Nyakundi alleges he was driving home after a church service with his 29-year-old son Joseph, who was seated in the back seat when he accidentally shot him in the chest.
The 60-year-old lawyer who is recovering at the Nairobi Hospital under police guard after suffering blood pressure complications while in police custody has been a licensed firearm holder for over two decades and his Glock pistol, according to the Austrian manufacturer, is equipped with three independent safety features to prevent accidental firing.
Detectives investigating the matter are now focusing on why the Toyota Axio Joseph is said to have died in had two bullet holes at the back seat.
Police are also investigating how Mr Nyakundi drove all the way to a hospital in the Parklands neighbourhood with his son bleeding to death in the back seat, before driving back to Muthaiga Police Station to report the incident.
Although Mr Nyakundi alleges the accident happened near the Judiciary Training Institute, Neighbours and security guards at Parkside Estate on Monday said they did not hear gunshots within the vicinity of the otherwise quiet neighbourhood, off Kiambu Road.
Detectives are yet to understand how the gun fired at least two rounds from the lawyer's white Toyota Axio.
His statement to the police indicated that he shot his son, Joseph, who was seated at the back seat of the car, accidentally as he holstered his revolver.
Police have seized two firearms and 471 rounds of ammunition from the house of City lawyer Assa Nyakundi, as investigations continue into circumstances under which he 'accidentally' shot and killed his son last Sunday.
A pistol and the 471 rounds of ammunition of different calibre were found inside a safe in the master bedroom while in an adjacent room used as a library, at a shoe rack, detectives say they found one shot gun rifle.
"The firearm certificate and the civilian firearm certificate id have been forwarded to firearms licensing board for verification," said police on Tuesday.
According to investigators, Nyakundi's Toyota Axion car was also subjected to ballistic examination and inside the vehicle, one spent cartridge was recovered under the mat of the front passenger seat and a bullet head of the same calibre was found inside the boot of the same vehicle.