The nation woke up talking over citizen journalist swift and quick formula that saw arrest of Evangelist Ng'ang'a in growing preachers debate in the country.The drama was quickly followed by tear gas canister at the Ekeza sacco members in long line at the DCI headquarters.
And in amazing news to parents and students,the DCI managed to nab a dangerous gang terrorizing the Maseno University fraternity while on the other hand NYS move to get back stolen cash saw major suspect risk losing family property.
PASTOR NG'ANG'A ARRESTED FOR THREATENING LINUS KAIKAI
Controversial Neno Evangelism pastor James Ng'ang'a was on Sunday night arrested by detectives from the Directorate of Criminal Investigations (DCI) over threats he allegedly made to Citizen TV journalist Linus Kaikai.
The pastor was arrested after Mr. Kaikai, the Director, Strategy & Innovation at Royal Media Services, filed a complaint with police over the "consequences" threat from Mr. Ng'ang'a who will be arraigned in court later in the day.
In a viral video released last week, the pastor, dressed in military-like fatigue and calling himself a "Chief General Commander" threatened unexplained "consequences" believed to be directed at Mr. Kaikai.
"Separate preaching na hii sarakasi za news anchor, nakwambia tu kijana. I am telling you like a Chief General Commander, you have to stop that, if you don't stop you will face the consequences…" said Pastor Ng'ang'a.
EKEZA SACCO DCI DRAMA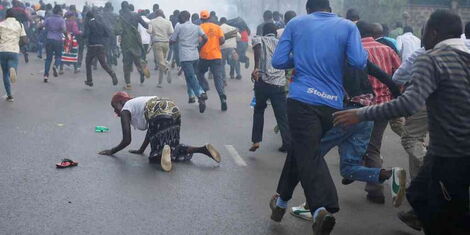 Police officers on Monday had to lob tear gas to disperse members of the Ekeza Sacco who were holding demos protesting misappropriation of funds by Sacco officials.
The DCI had scheduled sessions with Nairobi and Kiambu residents who thronged their headquarters this morning with fraud complaints against Gakuyo Real Estate, Ekeza Sacco and Gakuyo Investment Club.
The more than 50 members chanted "Haki Yetu" as they protested in the demos which turned chaotic at the DCI premises.
Majority of the members said they do not have faith in the DCI adding that the forms they were told to fill are not helpful.
MASENO UNIVERSITY TERRORIZING GANG ARRESTED
DCI detectives have arrested nine suspects following a spate of violence and gang rape at Maseno University.
The DCI on Monday released the names of the gang that has been terrorizing the varsity students.
They are Patrick Okanda, Peter Amango Sande, Geoffrey Okiya Mutunga, Obed Panyako, Peter Obed, David Ndegu, Samuel Kuya, Stephen Oloo and Nahashon Arena.
The detectives also confiscated stolen chairs, bhang, pangas and claw bars from the suspects.
Other gang members escaped during the raid and are being pursued by police.
NYS NGIRITA WEALTH FREAZING
The Assets Recovery Agency on Monday moved to court seeking to have motor vehicles and properties held by the Ngirita family key suspects in the National Youth Service (NYS) scandal declared as proceeds of crime.
The agency wants the properties of Phyllis Ngirita, Lucy Ngirita and Jeremiah Ngirita as well as Platinum Credit Limited and Opportunity International-Wedco Limited forfeited to the government.
"It is in the interest of justice that court issues an order that the said assets belonging to the three and which are reasonably believed to be proceeds of crime be forfeited to government and transferred to ARA," reads court papers.