Controversial city pastor James Ng'ang'a of the Neno Evangelism Ministry has been arrested by police for threatening Citizen TV journalist Linus Kaikai. If at all ng'ng'a was literate he would have some discipline to control his chronic verbal diarrhea! contrary, he fights education the same way he exorcizes demons from demon posses congregation.
Ng'ang'a was arrested on Sunday night by detectives from the Directorate of Criminal Investigations (DCI) after Kaikai filed a complaint with police over threats made by the preacher last week. He will be arraigned in court on Monday (today).
The arrest comes days after Ng'ang'a unleashed his wrath on Kaikai for calling out fake preachers.
Kaikai had argued that preachers need to be regulated and ensure they have relevant papers such as certificates of good conduct and certificates indicating they have studied theology.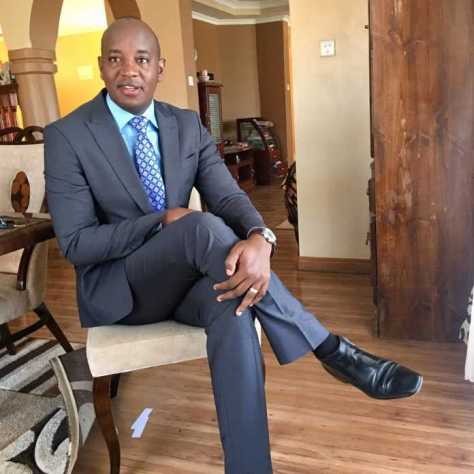 Bishop Ng'ang'a, who has been been in the public limelight for the wrong reasons in the recent past, admitted that he was not educated but that would not stop him from preaching the gospel.
In a video posted on social media, the Neno Evangelism preacher, criticized Mr Kaikai's calls to regulate preachers who have taken religion too far and marred with allegations of fraud and fake miracles.
Cautioned Kaikai
He went ahead to cautioned Kaikai from making reckless remarks and claiming that preachers are stealing from their flock.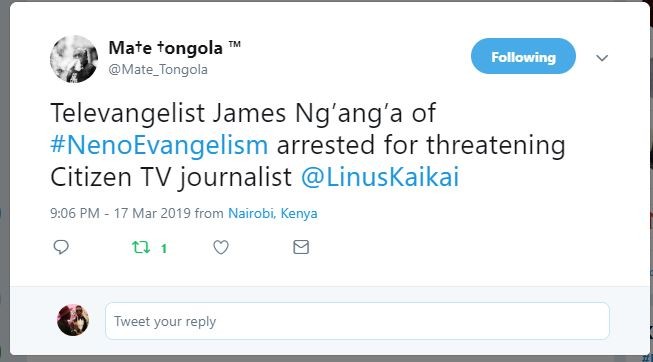 Mate Tongola's tweet on James Ng'ang'a's arrest
"Mimi sijui kusoma na mimi ndio mwanzilishi wa hii kanisa. Watu hawahitaji kusoma ndio wajue Mungu (I don't know how to read and I'm the founder of this church. People don't need to be educated to know God). Hamwezi kutu block, Bunge mmeenda nyinyi, makazi makubwa mmeenda nyinyi, ministers ni nyinyi… sisi watu hatujui kusoma tubaki na kuosha barabara (You can't block us, you are the ones in Parliament, you are the ones holding big jobs, you're the ministers… You want us the uneducated to remain washing roads (sic)?" Pastor Ng'ang'a asked.