The Director of Public Prosecutions had accused a senior diplomat at the Iranian Embassy of colluding with lawyer Robin Nyangaresi Kiptanui and Agyei in an escape plan involving a Sh15 million bribe. CCTV footage capturing meetings of three people accused of aiding three Iranian convicts escape is overwritten, a court was told. Prosecutor Duncan Ondimu on Wednesday told a Milimani law courts magistrate that the footage is corrupted from three different hotels within Nairobi where the accused met a senior Iranian diplomat to discuss how to help the convicts escape.
An Interpol report indicated that Iranian officials have been attempting to compromise key government employees and the legal system to release Ahmad Abolofathi and Sayed Mansour. They had several meetings on diverse dates within the city to discuss how to scheme an escape plan for the two convicts. Ondimu asked the magistrate for two more days to continue holding Wesley Kiptanui and Shemgrant Agyei and to establish whether they had anything to do with overwriting of the footage. "We obtained the CCTV footage from Al Yusra Hotel, Serena Hotel in the CBD and Art Caffe in Westlands but all the footage during the timelines when the meeting took place have been overwritten," Ondimu said.
The prosecutor said police were investigating phone and M-Pesa records from the accused and would finish the analysis by today (Thursday) evening. "We are finalising forensic examination on the suspects' phones. Agyei has three lines and a number of people have been sending him messages which we are also looking into," Ondimu said. The prosecutor said investigators had summoned another person of interest whose interview contradicted the initial information he had given. The investigations revealed that Agyei sent Sh3,000 to a Milimani court clerk and the investigators intended to interview her to establish the purpose of the cash. Ahmad and Mousavi were arrested in Nairobi in June 2012 and led the police to Mombasa Golf Course where 15kg of RDX explosives were found.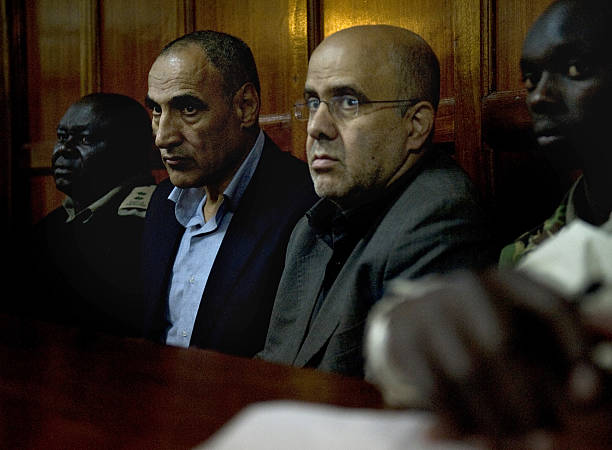 They were subsequently convicted of two counts of preparing to commit a felony and being in possession of highly explosive material and sentenced to life imprisonment in 2013 by a magistrate's court. The two convicts appealed and their sentence was reduced to 15 years. The Court of Appeal later quashed their jail term, saying there wasn't sufficient evidence to link them to the bomb-making materials recovered in 2012.
The DPP appealed the ruling with the case now pending in the Supreme Court tomorrow (Friday). The three have been in custody for 16 days. Lawyer Nyangaresi was released on Sh100, 000 cash bail after the court found no merit in detaining him as requested by the ODPP.