In what appeared to be a defence of sorts from the barrage of concerns about witch-hunt in the graft war, DPP Hajji revealed a list of corruption cases which showed Kikuyus top and are closely followed by Luos.
Mr Hajji was speaking during an interview on the popular Jeff Koinange Live show on Wednesday evening.
He brought along a file that contained the aggregated corruption numbers based on ethnic lines in response to accusations by some political factions that his office was targeting a particular tribe.
"I don't want it to look like I'm getting this numbers from my head, these are our statistics of accused persons by ethnic tribes," he disclosed.
The tribe with the most number of corruption cases in the period as revealed by the DPP were the Kikuyu with 141 cases, while Embu had the least with just 5.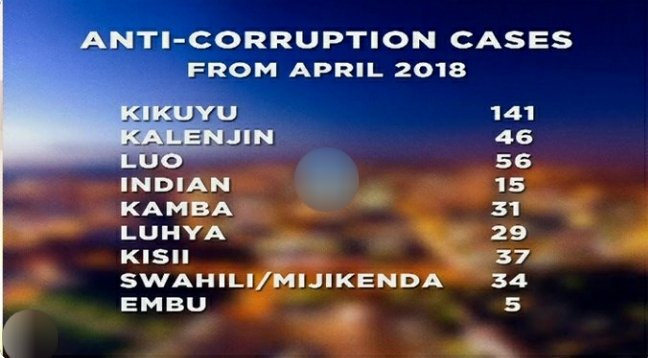 Luos came in at second with 56 graft cases with the Kalenjin community ranked as third with 46 cases at the DPP's office.
He went on to state that the numbers gathered relating to corruption cases only covered a period of less than a year.
"So who I'm I targeting you tell me, and this is just from April 2018 when I came in," he divulged.
During the interview, the director disclosed that his job entailed a lot of death threats as he was in constant conflict with high-level state officials.
"I live like an already dead man, I fear nothing or no one whatsoever," he asserted.
Mr Haji went on to affirm that his office would not relent in its pursuit of justice, stating that although some of the cases may drag on, crime does not have limitations, it does not expire and that it can be revisited at any time.