Algeria's education ministry has ordered an early start to university holidays amid huge protests against President Abdelaziz Bouteflika. Originally scheduled to run from 21 March to 5 April, the spring break now starts on 10 March and ends on 4 April. The ministry gave no reason for the move. Students have been heavily involved in mass protests against the ailing leader, which began last month after he announced he would seek a fifth term.
Mr Bouteflika, 82, who is currently in hospital in Switzerland, has ruled Algeria for 20 years but has rarely been seen in public since he had a stroke in 2013. He has said the protests could plunge the country into "chaos". Teachers and their students have gone on strike at several universities, while others said they would strike on Sunday.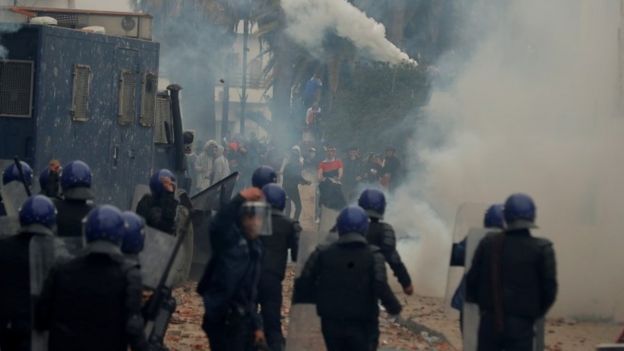 Algeria reportedly has more than 1.7 million students, more than a third of whom live on campus. But many others travel long distances to study from family homes. The move comes the day after huge demonstrations in the capital Algiers, which drew tens of thousands of protesters.
Riot police fired tear gas to prevent the mostly peaceful groups from reaching a road leading to the presidential palace, and local reports said nearly 200 people were detained by the security forces. Many who demonstrated on Friday initially gathered at university sites before heading onto the streets.