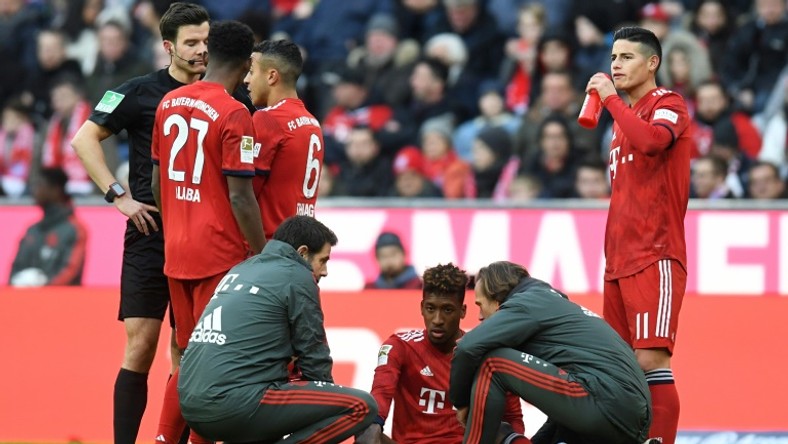 Bayern Munich's strength in depth will be tested at Borussia Moenchengladbach this Saturday with six of their star-studded squad sidelined.
There is some good news for second-placed Bayern, who are three points behind leaders Borussia Dortmund after winning 10 of their last 11 league games as captain and goalkeeper Manuel Neuer and defender Mats Hummels have shaken off illness.
However, David Alaba and Leon Goretzka both dropped out on Friday with leg injuries, joining Franck Ribery, Arjen Robben, Kingsley Coman and Corentin Tolisso on the casualty list.
At most other clubs, six players out would be classed an 'injury crisis', but Bayern have the personnel to absorb the casualties and look for revenge at Borussia Park, having lost 3-0 at home to Gladbach in October.
"We are in a good phase, but we have to defend well and also react up front," said head coach Niko Kovac, who took the mounting injuries in his stride and has promoted three members of the reserves including 19-year-old Jeong Woo-yeang.
The South Korean junior international could make his Bundesliga debut at Gladbach having already made his Champions League debut as a replacement in last November's 5-1 thumping of Benfica.
Kovac wants a win at fourth-placed Gladbach to keep the pressure on Dortmund, who play at Augsburg on Friday, "we definitely need the three points", but the hosts have injury woes of their own with forwards Ibrahima Traore and Josip Drmic ruled out.
After nine straight wins at home this season, Moenchengladbach have suffered 3-0 home defeats at Borussia Park to both Hertha Berlin and Wolfsburg in their last three games.
However, Kovac is taking nothing for granted, "we won't underestimate them, everyone picks up a few dents".
Gladbach last tasted victory with a 2-0 win at Schalke at the start of February, but are refusing to panic.
"There are such phases, we have no need to be unsure of ourselves or to act defiantly," said Gladbach's 54-year-old head coach Dieter Hecking.
"We don't have to question everything now, we need to keep calm and remain convinced of what we are doing."