The gunners were in sublime form at the Emirates as they beat Bournemouth 5-1 in a match which showed Arsenal's depth of squad. Ozil and Henrikh Mkhitaryan were the standout performers with Ozil giving Unai Emery a tough choice for selection in next match. Matteo Guendouzi was guilty of allowing Bournemouth back into the game but his teammates showed great class in the second half to ensure three points.
Pierre-Emerick Aubameyang scored his 16th goal of this season and has rekindled the Golden boot race. Carl Jenkinson started for the Gunners after a whopping 830 days and the fans were really behind him as he gave a good performance. All round Emery would be happy with the industry and work rate shown by his players ahead of the North London Derby.
Here are the three reasons why Arsenal had such a great night.
Mesut Ozil's Masterclass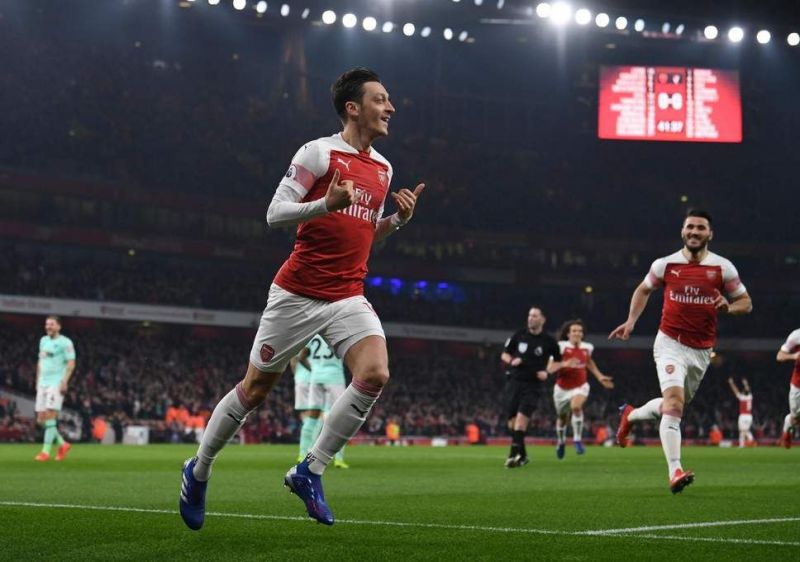 Ozil was at his very best as he created and scored in a night where the ball just kept on coming to him. Every time Ozil produces a performance like this, we wonder why he is not so good in other games. It was just his second start in the Premier League since the turn of the year but his all round game was impressive as he tracked back to help the defence many times during the match. Looks like the mind games of Unai Emery is working well for Ozil.
His lifted finish over Artur Boruc was a matter of discussion for football purists on Twitter and his technique was praised in all corners. He turned provider for Mkhitaryan for the second Arsenal goal and was the master creator in the second half too. Emery will surely think of starting Ozil in the next match, but fans also know the fact that Emery doesn't trust him so much for the away matches.
2. Bournemoth Travel Problems
Poor Bournemouth have been one of the worst travellers this season and it showed yesterday at the Emirates. They were unwilling to close down spaces giving too much freedom to Ozil and Mkhitaryan to work their magic.
They have already conceded three at Anfiend, four at Old Trafford and five at the Wembley against Spurs. Their defence is in shatters and it will require great work from Edie Howe to turn the performances around. Both the first and the second goals were due to defensive lapses and you just cannot do that away to Arsenal. Arsenal are known for their one touch play and you cannot give them so much room to play. Kolasinac and Jenkinson made sure that the wide areas were covered well and the chances of counter-attack reduced to almost nil. They played the first half with apprehension and were lucky to score even one goal in this game.
3.Mkhitaryan's return to form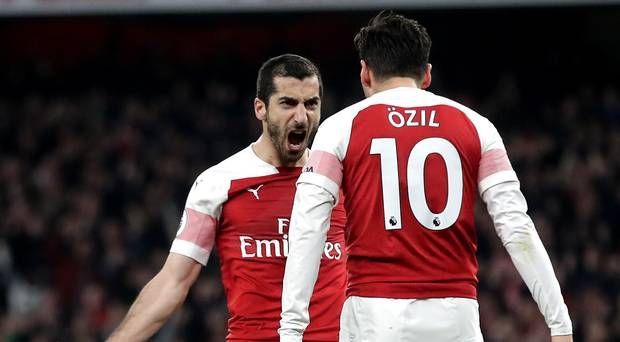 When Henrick Mkhitaryan came to Arsenal as a replacement for Alexis Sanchez, he was not seen as a like to like replacement, but we should not forget his exploits with Dortmund just some seasons back. He is a creative player who reads the game well and he did exactly that in yesterday's match.
His passing and finishing was on song and with two goals in two games, he has provided Emery with plenty of options in the attack. Welbeck's injury was seen as a major setback for the Gunners as they lacked a hard working player in the wings. But Mkhitaryan's timely return to form bodes well for the Gunners.
Going forward Mkhitaryan will be a very important player for the Gunners and Unai Emery has to use him to his strengths. Ozil and he can form a lethal combo. The fact that Emery now has enough playes in attack is a good sign for the tough games ahead.