Maurizio Sarri spoke about a pleasing team performance and a misunderstanding with Kepa in the wake of today's Carabao Cup final penalty shoot-out defeat to Manchester City.
The Blues performed well and had chances to win the game in normal time, but after 120 minutes of action had failed to separate the teams, it went to penalties, with City winning it 4-3 after both Jorginho and David Luiz missed for the Blues.
Maurizio Sarri says the Kepa substitution confusion was 'a big misunderstanding' because he thought the player had cramp. However he says Kepa was right that he could continue although the way he went about it was wrong. Sarri says he needs to talk to Kepa now. #CHEMCI— Chelsea FC (@ChelseaFC) February 24, 2019
Sarri was asked about an incident towards the end of extra-time when Willy Caballero looked set to come on for Kepa, but the Spaniard ended up staying on the pitch.
'It was a big misunderstanding,' said Sarri. 'I understood he had cramp so I didn't want the goalkeeper to go to penalties in that physical condition. I only realised the situation after three or four minutes when the doctor came to the bench.
Sarri tried to sub off Chelsea's goalkeeper, Kepa…but he refused to leave, and Sarri flipped out 😳

(via @SkyFootball) pic.twitter.com/cBWodJDyw3— Bleacher Report (@BleacherReport) February 24, 2019
In the meantime I wanted Caballero on the pitch, and the keeper only wanted me to know he was in condition to go to penalties, so it was a big misunderstanding.
'Kepa was right, even if the way he conducted himself was wrong. Mentally he was right, he was able to go to penalties, but I only realised everything when the doctor was able to come to the bench, not before. I was really angry.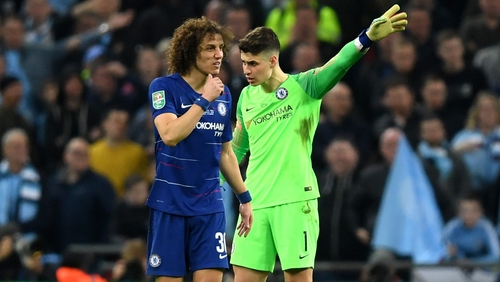 'I want to talk with him because he needs to understand that with a misunderstanding we can get in trouble, especially with you (the media). So I think I only have to explain the situation to Kepa but without any other problem.'
Sarri was pleased with his team's overall display

'I think if you saw the match you can understand very well that today the players played exactly the match we prepared yesterday so I think I'm fully in control of the situation.
'Now I'd like to speak about our way of football today, which was a little bit different to other matches. Today we decided not to press very high in every situation in which their goalkeeper was involved.
David Luiz, who hammered his penalty onto the post to miss from 12-yards on the big stage
Sergio Aguero's penalty looked to have been saved, but the ball squeezed under Kepa Arrizabalaga and into the corner

Jorginho had taken the first penalty of the shootout, and missed pic.twitter.com/H3lXi8yNZa— Lilian Chan (@bestgug) February 24, 2019
Because they are very able to use the goalkeeper and to come out of our pressing. So we decided from every goal-kick to wait 20 metres lower than we usually did, and we conceded nothing to the best team in Europe.
'Today I'm really very happy because my feeling is that we're improving. We could become a very solid team.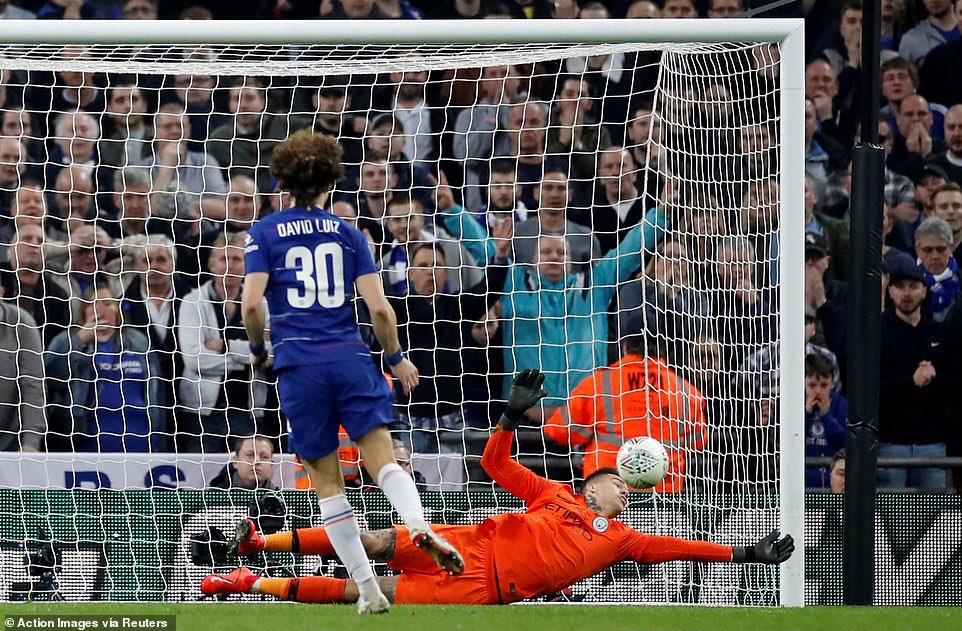 After today we conceded nothing to Man City, which isn't easy as they are very dangerous in the offensive phase and they usually score a lot. I'm happy with the performance and on the pitch I saw the performance which I prepared yesterday.'
He also provided his thoughts on an offside decision which went against Eden Hazard late in the game
'It was a mistake.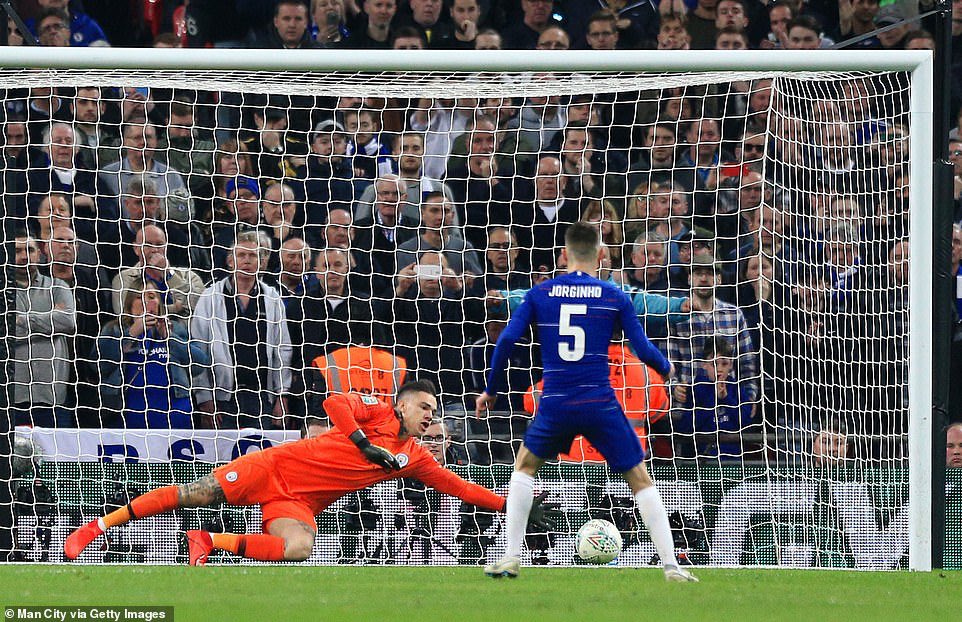 Because if there is VAR you have to wait, especially in that situation because it wasn't clear if Eden was onside or offside. It was a mistake, you have to [let play] go and then you can control the mistake. My feeling from the bench was that he was onside, but the feeling is impossible to be sure.'