In 2018, the UK government declared its commitment to increase trade ties with African countries, particularly Kenya. That commitment has been reaffirmed after the government's development finance company, CDC, opened an office in Nairobi.
CDC's chief executive Nick O'Donohoe told African Business Magazine that the new offices in Nairobi and Lagos "will allow the firm to seal investments and expand its support to enterprises across the continent…"
He added "Kenya is a strong story because there's a real tech hub developing there…."
Enjoyed speaking to @AfricanBizMag about our plans to invest $4.5 billion across the continent in the coming years: https://t.co/1rvafRXRL1 pic.twitter.com/klXbn1GfbW— Nick O'Donohoe (@nickodonohoe) February 22, 2019
CDC was established in the 1940's. Back then, it was referred to as the Colonial Development Corporation. Its name later changed to Commonwealth Development Corporation or simply CDC as it is currently known. The company has been the guide for UK's investments in Africa. It has invested in more than 30 African countries.
The firm's guiding principle is that all investments must have provable development impact and ability to earn a return. In 2016, CDC invested $140 million in Kenya's Athi River Mining Cement. It turned out to be a bad investment as the cement manufacturer struggled with debt and was put under administration in August 2018 leading to a massive loss for CDC.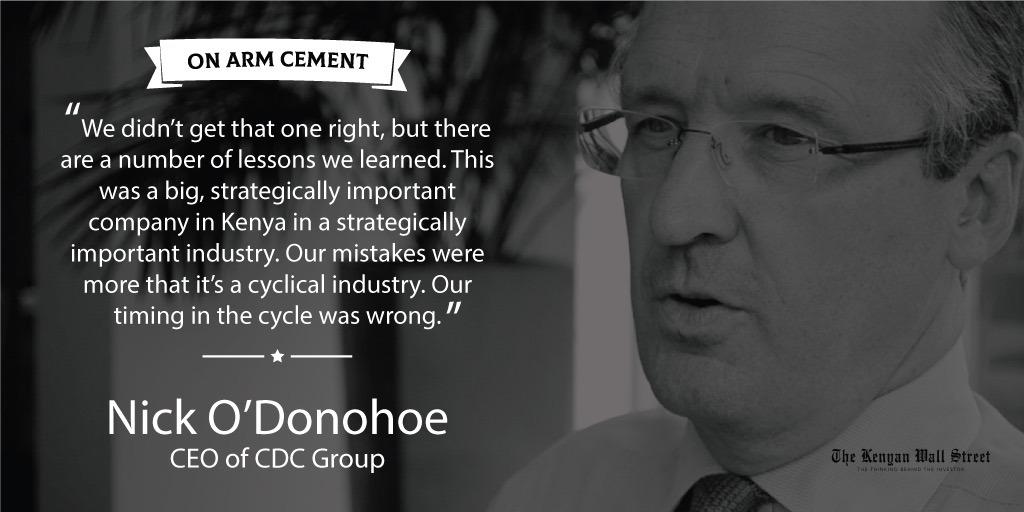 In response to CDC's loss in ARM Cement, the company's top executive said, "We take a lot of risk, go to a lot of difficult places, do very difficult transactions …..It doesn't mean to say we'll make money in everything and we'll certainly make some mistakes and hopefully learn from them."
Nick O'Donohoe added that his firm's 'confidence in its ability to take well-considered risks will play a crucial role as Africa's expansion continues.'  The company will follow strict criteria in making investment decisions in Africa.