Government auditors investigating the troubled Ekeza Savings and Credit Cooperative Society have revealed that more than Sh1 billion of investors' money had been illegally withdrawn from Ekeza Sacco and used by Mr Ngare on personal expenses.
The auditor's report was released during a special general meeting held at the Kasarani stadium and disillusioned many people who had committed their savings in a Sacco that was fervently marketed by Mr Ngare, the founder of the Calvary Chosen Centre church.
Authorities were thus ordered to seize the Kiambu politician and county official David Kariuki Ngare's assets to recover Sh1 billion he allegedly illegally withdrew from Ekeza Sacco to fund his lifestyle.
An official inquiry report by Co-operatives ministry said the Thika-based Calvary Chosen Centre bishop, his wife and his land selling and house development firm Gakuyo Real estate should "suffer the seizures" to recover monies owed members of Ekeza Sacco.
Warning signs appeared in March last year when Commissioner for Co-operatives Mary Mungai shut down the Sacco and appointed two liquidators to oversee its operations pending a probe into the management of its funds.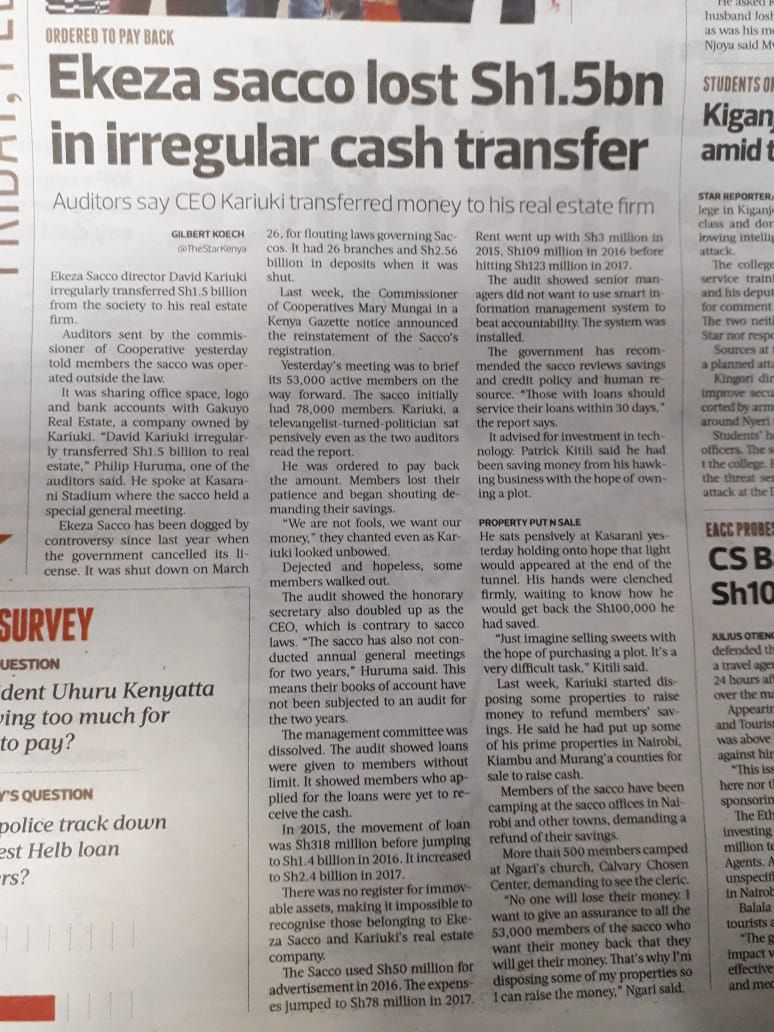 Ms Mungai said the decision was informed by complaints that Ekeza had reneged on a pledge to assist members acquire land and build houses.
Investigations into the Sacco's financial status established that Ekeza had no assets of its own since it has been sharing its assets, including office space and bank accounts, with Gakuyo Real Estate Company, also owned by the Thika-based televangelist.
The investigators pointed out that Mr Ngare managed the Sacco as a personal outfit.
The report prepared by appointed liquidator-receivers Stephen Njoroge (assistant director for co-operative audit) and Philip Uluma (principal co-operative officer) said Mr Kariuki started out with the aim of enriching himself and had no intention of helping members to buy land via his firm, Gakuyo Real Estate.
"All staff who irregularly loaned themselves monies from Ekeza must make arrangements to repay the monies or will have their properties seized to recover the same," said the report.
The meeting in Nairobi heard that Bishop Kariuki aka Gakuyo frustrated Ekeza's internal audit teams from carrying out their work.
During the inspection, the bishop, his personal assistant and Ekeza vice chairman James Kimani and former chief executive Gladys Muriithi declined to furnish the liquidator-receiver managers with their bank statements.
It's hard to sympathise with guys who lost cash to Ekeza Sacco. They were warned, but they ignored.

But I don't blame them. When a conman throws in God's name and quotes scriptures to justify scam, he disables victims' ability to think rationally, especially if they are poor.— Joshua K. Njenga (@JKNjenga) February 23, 2019

The report showed the trio directly withdrew money from Ekeza, which was reportedly spent on building houses on Gakuyo's land, buy land with huge sums of money delivered to the chairman's house.