Jurgen Klopp has labelled Sir Alex Ferguson a "fantastic person" – and admits he can only dream of replicating some of the success he enjoyed at Manchester United with Liverpool.
Legendary manager Ferguson helped United to a plethora of trophies during an incredible reign at Old Trafford, ending the club's 26-year wait to be crowned English champions in the process.
Klopp takes Liverpool to Old Trafford on Sunday for a match of huge significance as the Merseysiders look to end their own 29-year wait to win the title.
As such, some can see similarities between Klopp at Liverpool and the early days of Ferguson at United, but the German is quick to dismiss the comparisons.
"He is one of the biggest, if not the biggest, in world football," Klopp told reporters. "You can say that with all the things he achieved. Where he started, where he came from and what he did with the club. All that stuff. It's just incredible.
"As a young manager – a couple of years ago I was a young manager – it's not allowed to compare yourself or think about what he is doing and then compare to what you're doing. It was a completely different world. It's a different job.
"I always admired him. From a distance it's easy. I'm not sure how it would have been if I was here 20 years at Liverpool and you always have this battle all the time. Then maybe it's different because he was a very competitive guy saying some things before he played against Liverpool.
"I'm pretty sure when he was in charge he didn't want us [Liverpool] to be successful. Maybe he doesn't want that now but the opinion is probably not that strong anymore because he said already a couple of times, I heard, that he likes what we are doing here."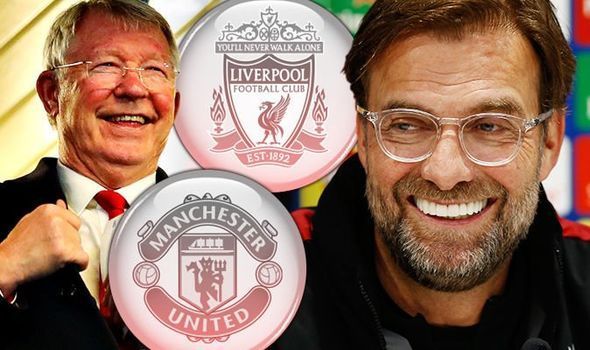 Klopp then recalled the time he first met Ferguson at a conference for Champions League coaches in Nyon, while the German was still in charge at Borussia Dortmund, labelling the Scot a "fantastic person".
"I asked if someone was here and they said, 'Yes Sir Alex Ferguson is in the breakfast room'. I came in and he was like, 'Oh Jurgen, come here'," he said. "I came in and for the first half an hour I had no clue what we were talking about because of the Scottish thing.
"I tried to be really, really friendly and step by step I got it. It's still the same with Kenny Dalglish. He is a really nice person. I respect him a lot. Obviously he thinks I'm not completely blind as a manager so that's good."