Do you remember the last time a lion was seen hovering around Nairobi City Cabanas? It seems that was just a trailer of the real movie which is about to feature live in the streets.
Kenyans will be more likely to have encounters with wildlife, in the coming months because of the dry season, the Kenya Wildlife Service has warned.
"The ongoing dry spell being experienced in most parts of the country is displacing wildlife from their traditional habitats in search of pasture and water. This has increased conflict as the wildlife comes into contact with the public and human activities," said a statement from the KWS on Friday.
Areas that have experienced increased incidences of human-wildlife conflict in recent weeks are Narok, Taita Taveta, Laikipia, Kajiado, Meru, Mau, Marsabit, Lamu and the Mt. Kenya region.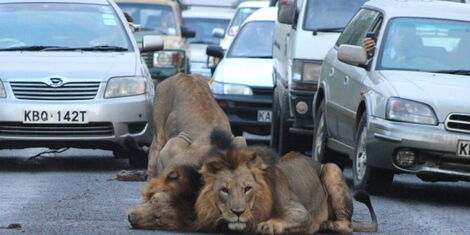 KWS said that it had enhanced surveillance to ensure that the public is protected from wildlife.
"Foot, vehicle and aerial patrols have been intensified to manage the situation," the KWS said.
The service warned the public not to set fires close to protected areas as the fires would cross over into the protected areas and worsen the human wildlife conflict.