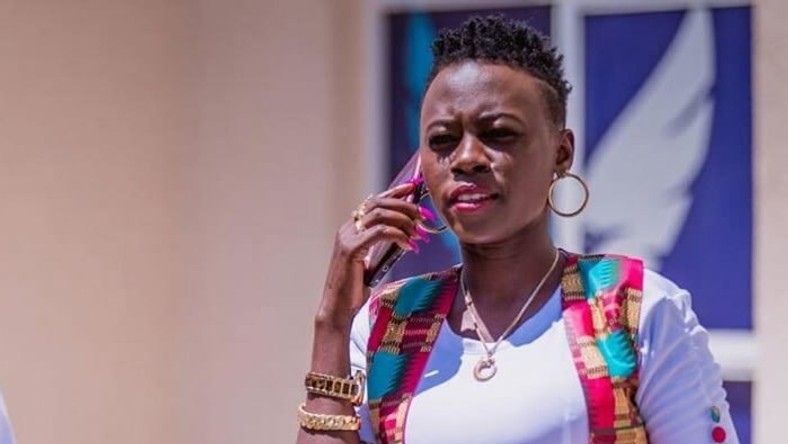 Akothee, commonly known as Madam Boss, is never one to shy away from controversy, and she clearly never misses a chance to leave her fans and critics at the edge of their seats.
The songbird, popularly known for her skimpy dressing and bizarre dance moves left eyes wide open when she decided to flash her cookie jar at an attentive audience.
In a photo seen on Sunday, February 17, the singer was spotted stretching her legs wide open in an attempt to deliver the performance of a lifetime. During a music concert, the Abebo singer sat on the ground, dressed in a tiny body suit and had two of her dancers clutch onto her legs.
The pair spread the musician's legs as they both continued to bust a move or two in a bid to keep the performance alive. By now you might be wondering how the mother of five was okay with the unexpected theatrics. Well Akothee said if she could do whatever she wanted as long as she was the one putting food on her table.
The lady just sat on the floor with her legs spread out and nether areas showing as she clutched onto the microphone and sang like no one was watching. Some of her fans even encouraged the single mother to spread her legs further while some asked Akothee to tone it down as they were busy worshiping in church.
This is not the first time people have been caught by surprise by the singer's unusual 'bad behaviour.' On many occasions during international performances Akothee made sure she left a mark on everyone who showed up to watch her perform.
In 2018 during a concert in Italy, the songbird stepped out in a tiny, revealing bodysuit and threw her leg in the air showing off her goodies while giving dancing on stage. This irked a lot of people but of course, Akothee was completely unbothered because at the end of the day she managed to laugh her way to the bank.