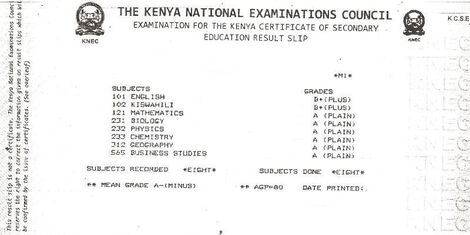 Mwakitawa Secondary School in Voi  has been accused of withholding his daughter's KCSE result slip over Kshs 9000 private tuition fee that accrued over time.
Derrick Mwanyika commented that he has tried multiple times to plead with the Deputy Principal of the school to release the document but she only claimed that she would "take the matter up".
"She said she would consult with the management but they are yet to give me any feedback," he added.
Mwanyika stated that his daughter, who sat her exams in 2018 and scored a C – (minus), is ready to join Nursing School for a nursing course courtesy of a sponsor who is ready to pay for her.
"A well-wisher has offered to pay fees my daughter's nursing fees. If this delay continues, the offer might be withdrawn," he lamented.
He adds that he was only knowledgeable about a balance of Ksh 35 but the school insists that he must pay Ksh 9000 to access the slip.
"I was ready to pay the Ksh 35 but the school insisted that I must first clear the Ksh 9000 private tuition fees balance," he commented.